Hollywood and Racism on TCM ('Raisin in the Sun'), Olympian Tragedy in Amazon's 'Pistorius,' Relationship Drama on 'Take Two'
A critical checklist of notable Thursday TV:
A Raisin in the Sun (8/7c, TCM): All month, Turner Classic Movies devotes its Tuesday and Thursday prime-time schedule to exploring "The Black Experience in Film," with scholars and critics introducing themed nights addressing movies' relationship to race. Two 1960s classics anchor a "Hollywood Confronts Racism" lineup that includes 1961's enduring film version of Lorraine Hansberry's A Raisin in the Sun (8/7c), starring Sidney Poitier, about a Chicago family seeking a better life in a new neighborhood. It's followed by 1962's beloved To Kill a Mockingbird (10:30/9:30c), featuring Gregory Peck's Oscar-winning performance as Atticus Finch, a Southern lawyer who risks his reputation by defending a poor black man accused of raping a white woman. At 1 am/12c, 1984's A Soldier's Story stars Howard E. Rollins and Denzel Washington in a gripping legal drama of a racially charged murder investigation during World War II.
See Also
From Elizabeth to Prince Charles, these actors certainly look the part.
Pistorius (streaming on Amazon Prime Video): The tragic downfall of South African Paralympic and Olympic sprinter Oscar Pistorius is examined in a four-part feature documentary three years in the making, directed by Vaughan Sivell. Pistorius chronicles the athlete's rise in what's described as "the story of a man and a nation born to great disadvantage," culminating in his conviction of shooting and murdering his girlfriend, Reeva Steenkamp, on Valentine's Day 2013.
See Also
Including the series premieres of 'Forever' and 'Six Dreams.'
Take Two (10/9c, ABC): The stakes are higher than usual for this light caper when Sam (Rachel Bilson) and Eddie (Eddie Cibrian) plot to recover a $50 million painting stolen from an auction house. And the bidding becomes personal when Sam starts dating again, forcing TV's cutest investigators to take a hard look at their own relationship. Sexual tension alert!
See Also
Heartache meets humor in this upcoming show.
Inside Thursday TV: More streaming highlights: The premium Sundance Now streaming service offers an intense four-part hostage drama, 54 Hours, inspired by a 1988 German bank heist gone wrong and inflamed by media interference… A new season of I Love You, America With Sarah Silverman gets underway on Hulu, with the comedian traveling outside her comfort zone to engage people who don't necessarily agree with each other (or with her) to see if we can't all just get along. Or laugh while trying… On cable, Lifetime's hour-long special Jordin Sparks: A Baby Story (10/9c) revisits the youngest-ever American Idol winner as she embarks on the adult journey of marriage (to husband Dana, with whom she eloped after a six-month courtship) and motherhood.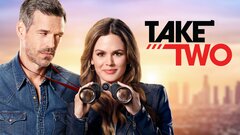 Powered by