Find Out What's Streaming on Amazon Prime Original
Forever
Series Premiere, Friday, Sept. 14
Former Saturday Night Live standouts Fred Armisen and Maya Rudolph partner to play Oscar and June, a loving and long-married couple whose life is so routine that June's suggestion of changing up their annual lake house vacation to go skiing is a shocking departure.
"June is happy, but she wants to break out of the pattern of her life," says Matt Hubbard, who serves as an executive producer on the show with fellow Parks and Recreation veteran Alan Yang. "That's her journey through the series. Oscar, on the other hand, is so averse to any conflict that it's detrimental to him living his life."
Needless to say, the mountain sojourn changes their lives forever. "The emotional core of the show is about whether long-term relationships can be sustainable, and if so, how?" Yang hints.
While that sounds like serious subject matter, Forever is a comedy­. Just don't expect to see Armisen and Rudolph hamming it up SNL-style. "We wanted to explore sides of the costars that haven't been seen as much," explains Yang. "It's like you're watching Fred and Maya in a show that's like a funnier David Lynch movie." – Ileane Rudolph
See Also
The series comes from the producer behind 'Mad Men.'
Six Dreams
Series Premiere, Friday, Sept. 7
The subjects of this docu-series give new meaning to the phrase goal-oriented. For an exclusive look at Spain's La Liga soccer league, cameras trailed these six ambitious figures during the 2017–18 season: Saúl Ñíguez, an Atlético de Madrid midfielder; Athletic Bilbao forward Iñaki Williams; Real Betis midfielder Andrés Guardado; former Sevilla coach Eduardo Berizzo; Girona FC sports director Quique Cárcel; and Amaia Gorostiza, president of football club SD Eibar.
Also Streaming:
Transparent
Amazon recently announced it will wrap up its comedy about a transgender woman, though without star Jeffrey Tambor. There's no Season 5 premiere date yet, so you have time to catch up. Seasons 1–4 available.
Bosch
He smokes, he drinks, he solves crimes. Renegade LAPD detective Harry Bosch (Titus Welliver) doesn't let anything stop him from getting bad guys — even if that means bending the law every so often. Seasons 1–4 available.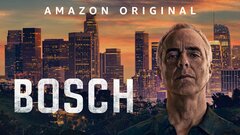 Bosch
where to stream