Brad Garrett on Why 'Single Parents' Is 'Realistic' About Raising Kids
It really does take a village, as the single moms and dads of Hilltop Elementary School are quick to point out (even though they hate the phrase).
The Single Parents cast includes Taran Killam (Saturday Night Live), Leighton Meester (Gossip Girl), and Brad Garrett (Everybody Loves Raymond) as a clique of parents who rely on one another to make it through the wild ride of raising children.
Garrett, who plays a wealthy widower with twins (Ella and Mia Allen), explains why it's worth hiring a babysitter and tuning in.
I have time to watch one more show. Why should it be yours?
Brad Garrett: Because I know where you live.
Who should be watching?
Folks who are looking for a humorous, realistic take on raising children in a complicated society.
Fill in the blank: If you like _____, you'll like our show.
Funny people scrambling to be the best parents they can be while staying out of jail.
What's a good alternate title for Single Parents?
What's That Smell?, Where the F Are My Keys?, or Everybody Loves Dysfunction.
What does Single Parents have to offer nonparents?
Hope.
How do I get my kid to sleep so I can actually watch the show in peace?
Show them my Star Search appearance from 1984.
Why is your cast the best on TV?
Because we all share one trailer in order to limit our carbon footprint. Take note, Goldbergs.
Single Parents, Series Premiere, Wednesday, September 26, 9:30/8:30c, ABC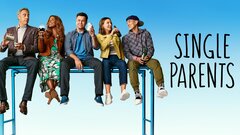 Powered by