'Bold and the Beautiful': Katherine Kelly Lang and Hunter Tylo on Brooke & Taylor's Catty Cake Fight
Forget about throwing rice! Brooke (Katherine Kelly Lang) and Taylor (Hunter Tylo) are going to be hurling wedding cake at each other following the marriage of Brooke's daughter Hope (Annika Noelle) to Liam (Scott Clifton), the ex of Taylor's daughter, Steffy (Jacqueline MacInnes Wood) on the Wednesday, August 22 episode of The Bold and the Beautiful.
And while the frosting will be flying because of their daughters, we can't help but think the long-running rivalry over Ridge (Thorsten Kaye) is playing a big role in this showdown between these two long-running rivals.
"I'm glad it's finally happening," Lang tells TV Insider of playing yet another altercation that gets physical between Brooke and her long-running nemesis. "Taylor sees that her daughter, Steffy, is unhappy and upset. As much as Brooke believes that her daughter, Hope, should be with Liam, Taylor feels the same way about her daughter."
See Also
The focus might be on the 2018 primetime awards right now, but we already have our picks for 2019's soap set.
"The reality is Hope's life with Liam was stolen from her years ago after Bill [Don Diamont] and Steffy locked Hope in a gondola," Lang points out. "Brooke keeps going back to that. Brooke's fighting for her daughter's happiness and Taylor's fighting her daughter's."
Conversely, and not surprisingly, Tylo feels that Steffy's in the right, but she realizes that trying to reason with Brooke by using words is futile.
"In the past, Taylor's tried to play into Brooke's psychology to find any kind of guilty conscious," says Tylo, who quickly adds with a chuckle, "Now, Taylor realizes Brooke doesn't have one! There's no trying to get to her because she doesn't listen to reason. Taylor's been letting stuff sit and stew for years. She's not happy and, now, she's got to vent!"
Some have a theory that Brooke is more similar to assertive Steffy, and kind-hearted Hope is more akin to Taylor. "I don't see that actually," Lang responds after taking a thoughtful pause. "It's the other way around. I've always felt that Brooke had that sweet side to her that Hope has now."

Taylor, a trained psychiatrist, feels differently. "Taylor doesn't want this to happen twice," says Tylo, referring to her character losing out in love. And, yes, watching Ridge choose Brooke is certainly part of Taylor's mindset right now. "If Taylor were true to her values she never would have put up with what Ridge did [while they were married]. Knowing that Ridge is there to support Brooke and Hope is infuriating to Taylor! "
"There are hurts that are still there and they can resurface," says Lang. "It goes back to [Ridge] in the sense that it's repeating all over again with [Liam choosing Hope]."
Another underlying sore spot is that Brooke was there for Stephanie [Susan Flannery], her one-time rival, at the end of her life and Taylor was not. "This is all part of the building resentment that Taylor has for Brooke," Tylo says.
No stunt doubles were required to tape the fray between the two women; in fact, they enjoy these scenes. "The physical stuff is so much fun to play," says Tylo. "It's like the time we did the mud fight. When the mud flew we were laughing to so much."
Brooke's arguably been lacking a strong, on-going adversary in recent years so Lang would love it if Taylor sticks around so the two women can go at it again.
See Also
The actress gives her take on how Sally's changed and what the future holds for the scrappy 'have not.'
"Brooke needs a rival," Lang says. "Taylor's return has given Brooke a reason to stand up and fight. It's great to work with Hunter again. This is bringing back the great history of the show and those Dynasty moments we used to see more often."
No word on how many cakes B&B had on standby for this cake fight, but Lang chuckles that she only had two versions of her dress so multiple re-takes weren't terribly feasible — or even necessary. The cake fight was shot in one take (with a few pickups).
"I was worried about cake getting stuffed in my face," chuckles Lang, who always appreciates getting scenes like this one and the pair's previously mentioned mud fight scene getting done in one take. Otherwise, she says, "I'd have to get my hair washed and do it all over again!"
Bold and the Beautiful, Weekdays, CBS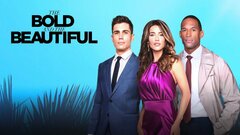 Powered by