TCM 'Like Buttah' with Streisand Salute, 'Disenchantment,' Janet Jackson Visits 'Tonight'
A critical checklist of notable Friday TV:
Summer Under the Stars: Barbra Streisand (starts at 6 am/5c): Hello, gorgeous! That opening line from Barbra Streisand's Oscar triumph as Fanny Brice in Funny Girl (12:15/11:15c) is just the icing on a day-long salute to her movie career. Other highlights include the immortal 1973 romance, and title song, of The Way We Were (5:45/4:45c) and in prime time, her directorial breakthroughs of 1983's Yentl (8/7c) and 1991's The Prince of Tides (10:30/11:30c). Stay up late to whet your appetite for the Lady Gaga/Bradley Cooper remake of her 1976 hit A Star Is Born (1 am/12c), which won an Oscar for "Evergreen," which she co-wrote with Paul Williams.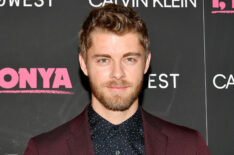 See Also
Plus, 'Whiskey Cavalier,' 'The Righteous Gemstones,' and more pilot news.
Disenchantment (streaming on Netflix): Animation giant Matt Groening (The Simpsons) migrates to the streaming giant for this gag-filled and splendidly drawn fractured-fairy-tale fantasy romp. Broad City's Abbi Jacobson is the voice of boozing rogue princess Bean, who embarks on misadventures with runaway elf Elfo (Nat Faxon) and a "personal demon" named Luci (Eric Andre).
See Also
The animated series premieres August 17 on the streaming network.
The Tonight Show Starring Jimmy Fallon (11:35/10:35c, NBC): Janet Jackson hasn't appeared on late-night TV since she was a musical guest on Saturday Night Live in 2004. So it's a coup for Fallon to lure the superstar back to TV, in her first appearance on Tonight since he began hosting, to debut her new single, "Made for Now," in collaboration with Daddy Yankee.
See Also
These small-screen stars are seriously connected.
Inside Friday TV: Seeking inspiration? ABC presents the WE Day celebration (8/7c), hosted by John Stamos, spotlighting young people hoping to change the world for good. Celebrity guests include Jennifer Aniston (who introduces two survivors of the Parkland, Florida, high-school shootings), Will Farrell, Whoopi Goldberg, Dierks Bentley, Selena Gomez, Cyndi Lauper, Martin Sheen, founders of the #NeverAgain movement and organizers of The March for Our Lives… PBS presents the yummy finale of the previously unaired 2012 season of The Great British Baking Show (9/8c, check local listings at pbs.org), in which one of three bakers will be declared crème of the crop… It's followed by the exotic charms of PBS's Great Performances taking us to Vienna Philharmonic Summer Night Concert 2018 (10/9c, check local listings at pbs.org), with renowned soprano Anna Netrebko joining conductor Valery Gergiev in the open-air concert.