Go Behind the Scenes of the Shawn Hatosy-Directed 'Animal Kingdom' Episode (PHOTOS)
Shawn Hatosy, aka Andrew "Pope" Cody, made his directorial debut with the August 7 episode of his TNT series Animal Kingdom, and it was quite the outing.
He was also on double-duty, as he acted and then jumped behind the camera, but Hatosy was more than ready for the challenge — he's been wanting to direct his whole career.
Hatosy told TV Insider previously that to prepare for this big step, he "shadowed" Southland [executive producers] John Wells & Chris Chulack "quite a bit" and considers them his mentors.
TV Guide Magazine got access to all the behind the scenes action, so check out some of the insider photos below:
This was the first scene that Hatosy shot.
On the set with Ben Robson, who plays Craig Cody.
Hatosy gets focused.
A little green screen action.
Hatosy gives direction in a scene.
"Want to thank the cast and crew for the overwhelming support. Most importantly want to thank the fans for inspiring me," he wrote.
Animal Kingdom, Tuesdays, 9/8c, TNT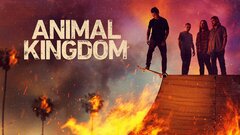 Powered by