Which Character From 'The Good Place' Are You? (QUIZ)
What do an Arizona dirtbag, a human turtleneck, a narcissistic monster, and a pre-successful DJ from Jacksonville, Florida have in common? They've all been sent to The Good Place, of course!
Last month saw the cast of NBC's delightfully unpredictable comedy hit take on San Diego Comic-Con with an activation that allowed fans to explore the neighborhood that became Eleanor's worst nightmare, and walk through Michael (Ted Danson)'s wonderfully torturous design. (Yes, there were shrimp involved.)
See Also
There's no telling what's in store for Thursday night's season ender.
Season 2 will be available for streaming on Netflix in August, leading up to the show's Season 3 premiere on Thursday, September 27.
What better way to celebrate all the excitement than with a quiz? Click through the personality test below to find out if you're Eleanor, Chidi, Tahani or Jason.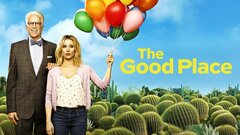 Powered by