NBC Orders 'Cruel Intentions' Continuation Pilot
NBC has ordered a pilot for a Cruel Intentions follow-up.
In the potential drama series, the story picks up 15 years after the film left off. The series will follow "the beautiful and cunning Kathryn Merteuil as she vies for control of Valmont International as well as the soul of Bash Casey, the son of her brother, who was the late Sebastian Valmont, and Annette Hargrove." But, "upon discovering his late father's legacy in a hidden journal, Bash is introduced to a world of sex, money, power and corruption he never could have imagined."
RELATED: NBC Orders Three Comedy Pilots From Creators Behind Undateable and More
The series comes from Cruel Intentions director Roger Kumble (who will also direct the pilot), as well as Jordan Ross and Lindsey Rosin. The two men put on The Unauthorized Musical Parody of Cruel Intentions in Los Angeles, a production which drew an audience from original Cruel Intentions stars Reese Witherspoon, Sarah Michelle Gellar and Selma Blair.
Neil Moritz and Pavun Shetty are also attached as non-writing executive producers.
The series comes from Sony Pictures Television.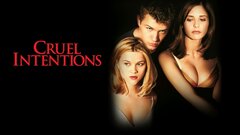 Powered by