'Marvel's Agent Carter': Peggy's Past Is (Finally!) Revealed
Spoiler alert! Do not read further if you haven't watched the latest episode of Marvel's Agent Carter, "Smoke & Mirrors."
Fans of Marvel's Agent Carter are used to seeing the hyper-competent spy tackle whatever comes her way with grace and aplomb. But tonight's episode reveals a different side of the Peggy Carter (Hayley Atwell) we all know and love—and it's a much younger one.
The latest episode showed Peggy Carter at four different points in her life, starting with her childhood, where the spirited young girl practiced vanquishing monsters until—later in life—she became a much more demure codebreaker for Bletchley Park. It's at Bletchley that Peggy gets engaged…and is also first offered a chance to be a part of the S.O.E. (Special Operations Executive). Despite receiving the offer twice, she turned it down both times because she wasn't ready to be a spy. A third flashback then revealed that Peggy's brother Michael was responsible for the S.O.E. offers since he felt she was meant for a life of adventure and excitement. But when Peggy—while trying on her wedding dress—learned of Michael's death fighting in World War II, she was finally inspired to accept the S.O.E. job to honor his memory.
In addition to flashbacks about Peggy, a parallel backstory with Whitney Frost (Wynn Everett) was also revealed. Whitney, who was born Agnes Cully, was an academically-minded young girl whose mother not only discouraged her scientific pursuits, but insisted that she use her good looks instead. Eventually, Whitney was approached by a modelling scout at the movies, which allowed her to fulfill her mother's words of beginning a career as a movie star while remaining a scientist in secret.
With the show giving viewers a long-awaited glimpse of Peggy Carter's (and Whitney's) pasts, we spoke to executive producers Tara Butters and Michelle Fazekas about key flashbacks.
RELATED: Hayley Atwell Talks Peggy's Past and the Pull Between Wilkes and Sousa
When you started the series, did you know what Peggy's backstory was?
Tara Butters: It's one of the things we've always wanted to explore, and it's something we got a chance to do in this episode. We wanted to show how Peggy became Agent Carter and where the support came from. Any woman of that time period would…[have] been encouraged to become a housewife.
Michelle Fazekas: Or, if she had a job, a secretary or nurse. For fans of the character, the surprise is that she didn't start out as the Peggy we know. She started out as sort of the typical woman of that time period, and what happened to make her turn into the woman that she turned into. All we really knew of the Peggy Carter from the Marvel Cinematic Universe was that she was a British secret agent who had fallen in love with Captain America. So we had a lot of freedom to decide who was she, and what was the most interesting story to tell. There are a couple of surprises that, in her backstory, people weren't expecting.
How did you come up with the idea that Peggy was involved with Bletchley Park? Did it just come up as part of your historical research?
Butters: That was always something that came from [show creators Christopher Markus and Stephen McFeely]. We spent time talking to them in Season 1 especially, and they always mentioned that this was how she ended up in the S.O.E. We just decided it was a good time to show that it was a natural progression for someone, a woman of that time. Bletchley Park was a place where women were being utilized in the War movement. She could catch the eye of someone from the S.O.E.
How did you decide to showcase Peggy and Whitney's origin stories in the same episode?
Fazekas: The nice thing about how we wanted to design Whitney Frost's character was, you get to see her early on not as a villain, but as a woman who's manipulative and not very nice. And over these 10 episodes, we get to develop her into what she becomes, this Madame Masque character by the end. We'd always said, let's compare and contrast Peggy and Whitney. These two are very similar in many ways. [They're] very smart and very beautiful. How did they turn out so differently? It was really fun to see them from the beginning. How did they start out? What influences did they have, and how did it shape them into the women they are when we see them in 1947? It was fun and challenging to design their [backstory] because we only had a few scenes in the episode. I loved seeing a young Peggy Carter; it was so fun and interesting. And I loved seeing Hayley play Peggy Carter before she became a spy. It was great! And you really understand Whitney a little bit, "Oh, I see why you are the way you are. You're not just evil for the sake of being evil."
The moment at the end of the episode where we see Whitney smile at the modeling scout, what convinced her to play nice in that moment? Did she see him as a stepping stone towards eventual power?
Fazekas: Well, if you think about what her mother keeps saying to her, "Your power is your looks," it's the point where [Whitney] basically accepts that her mom is probably right. She's going to choose to hide her intellect and use people who succumb to her looks. We wanted to play up her progression. Here is this little girl who was really excited about learning, but it's not that she stopped doing that. She just realized, "No one wants to see me that way." She's simply going to use other aspects of herself to get farther ahead.
Will we see how she met Calvin Chadwick (Currie Graham) later on?
Fazekas: You won't see that moment, but you'll certainly hear how that happened.
Marvel's Agent Carter airs Tuesdays at 9/8c on ABC.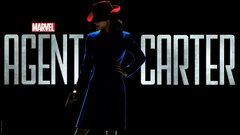 Powered by