'Game of Thrones' Alum Natalie Dormer Knows How the HBO Series Ends
Queen Margaery Tyrell might have seen her last days on Game of Thrones a few seasons ago, but that doesn't mean Natalie Dormer is out of the loop about how the fantasy series ends.
This week, the actress shared that she knows a few exclusive details about the finale — while admitting she's been following the show ever since her character's death by wildfire in Season 6. "I'm excited to see the next season. I'm on the edge of my seat like everybody else," she told The Hollywood Reporter.
As for that insider scoop, the actress admitted she knows how the hit series wraps up but not how the show gets there. "I know A to B. I know what B is, but I don't know how they get B. But I do know B," she explained.
The rest of the cast has been teasing how Thrones will end as each actor completes his or her individual scenes. Maisie Williams, who plays Arya Stark, posted a tribute to her beloved character on social media.
"Goodbye belfast. goodbye arya. goodbye game of thrones. what a joy i've had. here's to the adventures to come #lastwomanstanding #barely #immasleepforthenextfouryears #justkiddingidontsleep," the 21-year-old British actress wrote on Instagram.
Emilia Clarke aka the Mother of Dragons aka Daenerys Targaryen also has filmed her last moments. "Hopped on a boat to an island to say goodbye to the land that has been my home away from home for almost a decade," she wrote on Instagram.
And the cast also celebrated the final season with an enormous and rowdy warp party that looked like epic fun.
How do you think the series will end? Sound off in the comments below.
Game of Thrones, Season 8, 2019, HBO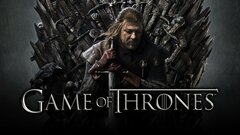 Powered by