'Shooter' Sneak Peek: How Close to Atlas Was Bob Lee's Father? (VIDEO)
Now how often does snooping into the past lead to anything but pain?
That's what former Marine/sniper Bob Lee Swagger (Ryan Phillippe) is finding out on the third season of USA's Shooter, as he digs deeper into the past of his father and his connection to the evil group, Atlas. But try as he might, Bob Lee isn't about to stop on this trail of discovery — no matter what it uncovers.
In Thursday's all-new episode, Bob Lee regroups with former Marine commanding officer/ally Issac (Omar Epps) and former FBI agent Nadine (Cynthia Addai-Robinson) to discuss his investigation and what it all means. In the course of their conversation, they stumble on what could be yet another lead for more answers.
Check out this exclusive clip from Thursday's episode below to find out more:
Shooter, Thursdays, 10/9c, USA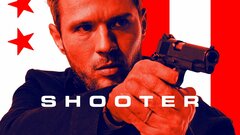 Powered by