'I Am The Night' Trailer: A 'Wonder Woman' Reunion for Chris Pine & Patty Jenkins (VIDEO)
We don't see Diana Prince anywhere in sight, but the new trailer for TNT's limited series I Am The Night (formerly titled One Day She'll Darken) does reunite Wonder Woman director Patty Jenkins and star Chris Pine.
The drama is a suspenseful mystery, based on true events, following Fauna Hodel (India Eisley), a girl who was given away at birth. When Fauna decides to dig into her past, those secrets lead down a dark path coinciding with an infamous Hollywood doctor.
Dr. George Hodel (Jefferson Mays), is a man involved in some of the worst "debauchery" imaginable, while Jay Singletary (Chris Pine) is a former Marine and now reporter/paparazzo ready to discover the mystery revolving around Fauna.
Included in the cast are previously-mentioned Eisley, Mays, and Pine, as well as Leland Orser, Yul Vasquez, Dylan Smith, Golden Brooks, Justin Cornell, Jay Paulson, and Connie Nielsen — another Wonder Woman alum.
Jenkins, who was acclaimed by her peers and fans for directing the DC Comics film, will step back behind the camera to direct and executive produce the TV project, which is part of TNT's upcoming Suspense Collection — a "thrilling collection of limited series." Pine will also executive produce the series.
Sam Sheridan, author of A Fighter's Heart and The Disaster Diaries, wrote five of the six episodes set to air at the beginning of 2019. For a look at the thrilling new show check out the trailer below and get excited for January, when it's set to drop.
I Am The Night, January 2019, TNT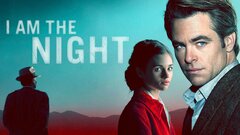 Powered by