'The Originals' Star Riley Voelkel Hints at Trouble Ahead of Freya & Keelin's Wedding
Here come the brides!
You're invited to a New Orleans wedding on supernatural drama The Originals. But there's every chance the nuptials could be cursed. One of the ladies, Freya Mikaelson (Riley Voelkel), is a witch—and the guests are a mix of bloodsuckers and vampire-werewolf hybrids.
See Also
Plus, the final seasons of 'Crazy Ex' and 'iZombie' confirmed and more new series announcements.
Perfect match?
Ultimately, Freya's doubts just might doom the couple before they say "I do." The eldest Mikaelson sibling has spent her long life taking care of family (well, aside from the centuries she spent in hibernation courtesy of an evil aunt), and her soulmate, Keelin (Christina Moses), often fell by the wayside.
The powerful spellcaster "pushed Keelin away several times knowing that all her energy would be spent protecting her family," Voelkel says. "But Keelin continued to show up." The young woman's persistence has proved to Freya that Keelin is loyal. And yet Freya can't shake the feeling she doesn't deserve true love.
Moving on
After watching this heart-wrenching episode, you'll need to save some tissues for the upcoming series finale. (There are only two more episodes until this spinoff of The Vampire Diaries concludes; another spinoff, Legacies, about teenage hybrid Hope Mikaelson, played by Danielle Rose Russell, premieres in the fall.)
"Bittersweet is how I would describe it," says Voelkel. "I think all of us were able to get closure with the characters we have loved so much, and I hope the fans get that too. There will be cheers and there will be tears." And knowing this bunch, we predict there will be some blood too.
The Originals, Wednesday, July 18, 9/8c, The CW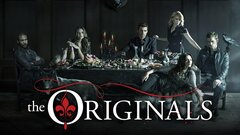 Powered by