Roush Review: 'The People v. O.J.: American Crime Story' Is a Riveting Recreation
Sensational in every way imaginable, The People v. O.J. Simpson is guaranteed to spellbind viewers the way the original media spectacle did back in the mid-1990s. "Something big's happening here," realizes Johnnie Cochran (an electrifying Courtney B. Vance) while watching the infamous Bronco chase on TV, as an entire nation did in real time. This inaugural season of a new American Crime Story franchise is big, all right.
The TV event of the winter, it's instantly riveting, artfully crafted, sharply acted and wildly entertaining. Also timely and newly relevant, with its framework of post-Rodney King racial turmoil and suspicion of police authority, playing to an audience newly weaned on sprawling true-crime narratives like The Jinx and Making a Murderer. They'll find it impossible to resist the lurid but lucid compulsion of this outrageous-because-it's-true "limited series," developed by executive producers Scott Alexander and Larry Karaszewski (Ed Wood, The People vs. Larry Flynt), with multiple episodes directed by Ryan Murphy in a state of feverish intensity.
Hindsight adds another layer of fascination to this all-star replay of gripping legal theater, much of which played out on our TV screens daily. "This is a better daytime soap than anything we've got," declares a network exec who scraps his lineup for wall-to-wall coverage of the O.J. murder trial. We couldn't get enough then, and TV history is about to repeat itself.
MORE REVIEWS: Here's What Critic Matt Roush Loved (and Loathed)
The staggeringly impressive dream team of a blue-chip cast includes Cuba Gooding, Jr. as the petulant defendant, John Travolta as a weirdly reptilian and supercilious Robert Shapiro, David Schwimmer unexpectedly affecting as dutiful, dapper O.J. loyalist Robert Kardashian—whose lecture on fame to his star-struck kids verges on camp—Nathan Lane as jaded courtroom legend F. Lee Bailey and, in another breakout performance of simmering turbulence, Sterling K. Brown as an introspective and conflicted ADA Christopher Darden.
But it's the chief courtroom combatants who steal the show: a flamboyant Vance as the impassioned, cocky Cochran and the fierce Sarah Paulson as embattled and outmatched prosecutor Marcia Clark, whose humorless zeal renders her unsympathetic to unforgiving TV cameras and a mocking tabloid press that rattles her confidence.
Though the verdict may have polarized the country, most everyone is likely to agree on the merits of The People v. O.J. Simpson as absolutely terrific TV.
The People v. O.J. Simpson: American Crime Story premieres Tuesday, Feb. 2, 10/9c, on FX
---
Questions? Ask Critic Matt Roush!
TV critic (and occasional TV therapist) Matt Roush answers viewer questions and concerns in his Ask Matt column each week. Wondering about plots, characters and twists on your fave shows? Submit your query to Matt via the form below:
Powered by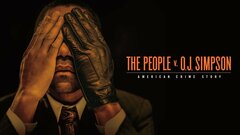 Powered by