Disney XD Picks Up Robot Adventure Comedy 'MECH-X4'
Disney XD is adding another sci-fi comedy to its lineup.
MECH-X4 follows a group of four teenage heroes who control a giant robot charged with protecting their city. The show, now shooting in Vancouver, will premiere this fall on Disney XD.
The live-action sci-fi comedy genre has done well for Disney XD, which boasts series like Lab Rats and Mighty Med. But MECH-X4 will be much more serialized.
Newcomer Nathaniel James Potvin stars as Ryan Walker, a freshman at Bay City High who has the ability to control technology with his mind.
According to the Disney XD logline, "his talent mysteriously awakens MECH-X4, a giant 120-foot robot built by an elusive genius-in-hiding to defend their town against impending doom. Ryan recruits his two best friends and his older brother to help him operate MECH-X4. When monsters suddenly begin to descend upon their city, the four must quickly learn to work as a team in order to pilot the robot that is their only hope of saving their town, and ultimately the world, from mass destruction."
Steve Marmel (Sonny with a Chance) created the show and executive produces, along with Anupam Nigam. The cast also features Kamran Lucas, Pearce Joza and Raymond Cham.
"We've assembled a dream team in a cast and crew that commands this action-packed series, masterfully blending high-end visual effects with compelling mythology to bring MECH-X4 to life," says Adam Bonnett, executive vice president of original programming for Disney Channels Worldwide.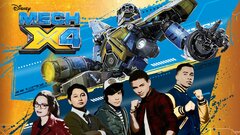 MECH-X4
where to stream
Powered by