'Unbreakable Kimmy Schmidt' Cast on More Season 4 & That Potential Movie
On June 3, the cast of Unbreakable Kimmy Schmidt came together for a special Netflix FYSee event, otherwise known as a for your consideration screening, and TV Insider was on site to speak with the stars.
Before the screening of some Season 4 episodes (available now on Netflix), TV Insider spoke with Ellie Kemper, Tituss Burgess, Jane Krakowski, and Carol Kane on everything from their characters and memorable moments to those movie rumors. Afterwards, the stars sat down with creators Tina Fey and Robert Carlock to speak about Season 4 in a panel moderated by TV Guide Magazine's own Senior Writer Damian Holbrook.
"We have four more weeks left of filming," Kemper told us, confirming that Season 4 will, in fact, be the show's last — the second half will be released on January 25, 2019. "This is exciting because we're still filming as it's being streamed, which has never happened before. So it feels like old school network."
Kemper, whose titular character Kimmy somehow finds herself at the center of a sexual harassment investigation, shared her thoughts on the relevant topic, saying, "When it turned out that Kimmy was going to be the office predator, I thought that's a great way of turning this whole thing on its head, and managing to make it funny without overlooking the seriousness of the subject."
For those who haven't streamed Season 4's first half, Kemper's Kimmy behaves inappropriately towards a co-worker, unbeknownst to her. "The stage directions were 'you drop your pants,' I was like, wait a minute, okay, dropping pants, that was all I could think about… because we don't have much nudity or exposure on our show. I got very frantic about it."
As for rumors about a potential movie that would follow Season 4's second half, stars Jane Krakowski and Tituss Burgess couldn't share much but did reveal their hopes moving forward.
"I'm not sure what they have in mind, but it seems like we're somehow linked to Sex and the City, if we get a movie and that all sounds good to me, or Gals on the Town," said Krakowski making a reference to a 30 Rock callback that was woven in the current season of Kimmy Schmidt.
Meanwhile, fan favorite Burgess, hopes that "Tina and Robert continue to stay inspired and that they make Titus as strange and zany as possible," in a possible movie.
Both Krakowski and Burgess also talked about exploring their paternal and maternal instincts this season. "I feel like the show was sort of built on [Jacqueline] being the trophy socialite wife and not raising her own kids, and not being threatened and afraid of her 'too-cool' step-daughter," Krakowski added.
"So for me, when we get to go back to that storyline of her as a mother, it makes me feel good and warm inside because I feel like that's the core of who Jacqueline is from Season 1. I also love Dylan [Gelula] who plays Xanthippe so much — and it's just so much fun to say Xanthippe.That's actually my favorite episode of this season that we just put out – the one where I help Xanthippe – so yeah, it was fun."
As for Titus, he had to face a harsh truth, even if he didn't fully acknowledge it. "[Titus] is still very selfish, I don't know if he'll ever get it, but it's so funny, at first, I was like, oh, this is gonna be so interesting to watch – Titus work with children – because of the age differences but, they're his peer group if you really think about it."
But it's through this experience of working with kids — he helps direct a school play — that he learns about the benefits of helping others grow and find their voice.
"He's such an adolescent in so many ways," Burgess continued, "so it was really fun watching them exacerbate all things about himself, that he hates."
Everyone's favorite gentrification-fighting landlady Lillian is back too, and Kane spoke about some of her character's most memorable scenes, including one with guest star Busy Philipps. "I know Busy's back… she's back, so we'll probably be doing some more sword fighting as we continue."
But it wasn't all about Season 4 — the event had the cast feeling sentimental about what the show has meant to them. "Working with Ellie, she taught me a lot, she doesn't know it, but I could not have done this without her," Burgess gushed of his experience.
"The fact that I got to work with these great creative people – Robert and Tina, Ellie, Tituss, and Jane — I mean I think that it's been a privilege, and I'm not kidding," Kane echoed her costar.
The love fest doesn't have to be over though, as co-creator Carlock basically confirmed the movie during the panel, saying, "We'd always thought of it as five-ish seasons… We were pointed in the right direction, I think for the characters. We have big endings for everyone that are going to be vague cliffhangers, and you know, with the feature, all that will help us as well."
Of the film concept, fellow creator Fey reiterated, "We did know where we wanted everyone to land at the end of the series, so we just had to adjust the ramp."
Now that's news all fans are sure to get behind.
Unbreakable Kimmy Schmidt, Streaming Now, Netflix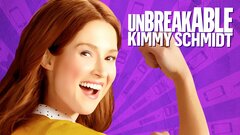 Powered by