'The Blacklist' Finale & More of TV's Biggest Season-Ending Shockers
The Americans
FX's Cold War spy thriller concluded its six-season run with startling choices and great loss. After finally confirming that his friends Philip (Matthew Rhys) and Elizabeth (Keri Russell) were Soviet spies, FBI agent Stan (Noah Emmerich) let them escape. "He intended to take them in," says Emmerich, "but chose humanity over duty." The couple returned to the U.S.S.R. but lost their kids, making a heartbreaking decision to leave innocent son Henry (Keidrich Sellati) in boarding school, while spy-in-training Paige (Holly Taylor) changed her mind about departing the U.S. and sneaked back to D.C. "The show has a tragic ending," says Rhys, "but it is a fair one." —Ileane Rudolph
See Also
The actors share their feelings on the conclusion of Elizabeth and Philip's stories and what they think comes next.
The Blacklist
FBI agent Elizabeth Keen should have believed the man known as "Red" Reddington (James Spader) when he first told her he wasn't her father, instead of pressing until he falsely changed his story. Not only is the criminal turned FBI asset not her dad, but he's not even Reddington! "It's a truth we've been working toward for five years," exec producer Jon Bokenkamp says of the NBC drama. "Who is this man? His attachment to Liz is one of the more disturbing things she will try to wrap her head around next season." —Samantha Westfall
Gotham
The walls of Gotham came tumbling down after Jeremiah (Cameron Monaghan) blew up half the city. "We're showing how Gotham became so dangerous that Batman was necessary," notes David Mazouz (Bruce Wayne). "Now we're there: Gotham has hit rock bottom." In the episode's final moments, with evacuations underway and villains staking out territory, Bruce joined Jim Gordon (Ben McKenzie) on the GCPD roof, where the cop fired up a very iconic spotlight to serve as a signal to any citizen looking for safe haven. This sets the stage for the Fox drama's final season, reportedly a take on two comic book arcs: "No Man's Land," which sees Gotham overrun by gangs of villains following a catastrophic event, and "Zero Year," a stand-alone story that reimagines the rise of Batman as the city's protector. —Damian Holbrook
See Also
Tragedy is never far away.
Killing Eve
After rogue MI6 investigator Eve (Sandra Oh) and assassin Villanelle (Jodie Comer) confessed their attraction and nearly kissed, Eve stabbed Villanelle, whom she'd been tracking all season. "It was in cold blood," executive producer Sally Woodward Gentle confirms. "The stabbing connected Eve to a part of herself she's been denying." That part is hungry for trouble, risk and adventure. Villanelle ran off bleeding—how will she react next? When the BBC America series returns, expect her obsession with Eve to deepen. Says Gentle, "The intimacy of the stabbing either confirms for her their very special relationship or strengthens her resolve to kill Eve—or both." —Kate Hahn
Madam Secretary
As the harrowing episode came to an end, Secretary of State Elizabeth McCord (Téa Leoni) told husband Henry (Tim Daly) that she planned to run for president! The declaration was precipitated by McCord learning how close President Dalton (Keith Carradine) came to launching a nuclear attack on Russia because of a miscommunicated training exercise. "The episode had two arcs," says executive producer Barbara Hall. "One was revealing the presence of the hair-trigger response to a predicted nuclear attack, and the second was [firing up] Elizabeth's passion to change the system." Next season the CBS drama will follow McCord's prep work as she hires staff and raises money before hitting the campaign trail in 2019–20.
See Also
Executive producers Barbara Hall and Lori McCreary give the scoop on the suspenseful and enlightening episode.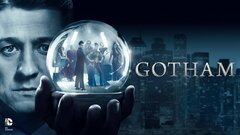 Gotham
where to stream