All Hail the Red Queen! 'The 100' Star Marie Avgeropoulos on Octavia's Bloody New Role
Slay, Red Queen, Slay! The 100's tiniest, fiercest warrior is killing it this season, both literally and figuratively, and we have Marie Avgeropoulos to thank for that.
As Octavia Blake, the actress has never had it easy — as the seasons have progressed, O has gotten tougher, angrier and grimier. But no matter how far across the line she goes for her people, we wind up rooting for the Sky Girl Under the Floor Who Saved the Human Race. Now, she's dealing with bad blood closer to home as she and brother Bellamy (Bob Morley) are torn, not just over a certain lady in his life, but also a message from the Eligius villains that could spell the end of Octavia's rule.
See Also
Let's just put it this way: Only one isn't super tense.
Here, Avgeropoulos opens up about to TV Insider about her character's arc and why it's been her favorite run so far.
First off, how exciting is it that you guys got renewed so early? Finally!
Marie Avgeropoulos: Yeah, that never happens!
We're only halfway through the season and Octavia's already in so much trouble…
She has been through it this season. This has been my favorite season as an actress, I think. I can't pick favorites because she's always changing… she's been really a villain when she acts like one, she's constantly changing. Her transformation into the Red Queen, Blodreina, wasn't instantaneous but it's really interesting to see how people feel about the character now. People love her or they hate her, which I can handle. It's okay. [Laughs]
At least they're paying attention.
[Laughs] Yeah and if it means she's making people feel, then I'm doing my job. But she didn't get to this place overnight. It was slow and it took place over six challenging years. And the thing I love about this show is the characters are always trying to choose between exceedingly impossible things all the time. What happened in the bunker, they were faced with something that the fans will see toward the end of the season and they will gain insight on how this transformation happened.
See Also
Are you a fearless leader like Bellamy or are you compassionate like Clarke? Find out!
It actually makes sense, given everything she's endured since the show began.
Blodreina speaks her truth to power and, you know, a part of me thinks she has always been simmering below the surface because of all the trauma that Octavia's been through. And now she's morally stuck to the philosophy that 'love is weakness,' which is understandable since she's never really had a support system for her trauma. She lost her mother, she lost Lincoln and she learned to not be emotionally connected to things. To continue Wonkru functioning together with all these people who have such animosity for each other — then losing basic life needs like food and water, the farm, and medical — she's got to keep order and it's an interesting way that she chooses to do so.
How do you feel she handles having to let go some of that control now that the power dynamic is shifting?
Ooh. I think it's challenging for her to have to let go of her ego. She's faced with new enemies and many people aren't listening to her power anymore or want to rule, all while fighting for the last survivable place on Earth, the only green place on Earth. And even if it's Bellamy who is standing in her way and throwing her plan offside, she's going to maintain exactly the same approaches that she did for the past six years 'cuz she knows that they've worked.
Some serious stuff goes down between the Blakes this week. Do you feel that Bellamy and Octavia can forgive each other?
They will always have love for one another, but they've seen so much over the past six years. It's become so clear that they're very different people. Especially when Octavia saw him with Echo (Tasya Teles), who I assume would be the last person on earth Octavia would want to be her sister-in-law. [Laughs] She's the woman who almost took her life, who pushed her off a cliff and caused the people so much pain at the end of 505. She's incensed. It doesn't help that that reveal comes on when it does… Echo's an obstacle to her game plan and therefore an enemy of Wonkru. So we'll see how that unfolds this season.
There are signs of her being really lonely. Is she capable of letting people in?
Yes. And I think Octavia is ready to start relationships again, but that also comes with an emotional price. Because as soon as she loves someone, that is weakness and having anyone near her can potentially cause me more hurt, which she typically can't handle. I think she holds resentment toward Abby (Paige Turco) because Octavia's had to shoulder all of the things that went on in the Dark Year and she's quick to remind Abby that her there's blood on her hands too. So now emotional negotiations are constantly happening.
The 100, Tuesdays, 9/8c, The CW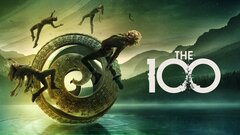 The 100
where to stream
Powered by