'Grey's Anatomy' & 'The Middle' Stars Lend Voices to Netflix's 'Harvey Street Kids' (VIDEO)
Netflix's newest collaboration with DreamWorks Animation Television, Harvey Street Kids, is headed to the streaming service later this month, and this is one TV fans won't want to miss!
The series, which is inspired by the classic '40s Harvey Comics, will follow a group of kids having non-stop fun through "larger than life" adventures and more. And there's a reason why some of the characters might sound familiar — actresses Stephanie Lemelin (Dawn of the Croods), Kelly McCreary (Grey's Anatomy) and Lauren Lapkus (The Big Bang Theory) lend their voices to the main trio of Audrey, Dot, and Lotta.
This imaginative group is joined by more Harvey Street characters such as Tiny, voiced by Community's Danny Pudi, and Bloogey Boys leader Melvin, voiced by The Middle's Atticus Shaffer. These characters all live on Harvey Street "where the sun never sets and the fun never ends."
That's not all, though! Fans of popular boy bands like New Kids on the Block, 98 Degrees, *NSYNC, and Boyz II Men will be ecstatic to learn that the show's Crush4U band is comprised of voices lent by Joey McIntyre, Nick Lachey, Joey Fatone, and Shawn Stockman. The fun-filled project will be overseen by Executive Producer Brendan Hay (The Daily Show) and Supervising Producer Aliki Theofilopoulos (Phineas and Ferb).
For your first look at all the Harvey Street fun, check out the trailer below as well as some exciting new images. And don't forget to catch this family-friendly series on Netflix later this June!
Harvey Street Kids, Series Premiere, June 29, Netflix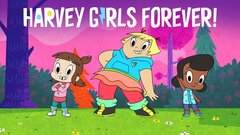 Powered by