'The Bachelorette' Season 14 Premiere: Becca's Not Playing Games (RECAP)
[SPOILER ALERT: This recap features spoilers from the Season 14 premiere episode of The Bachelorette.]
More than two months after getting her heart broken on national television at the hands of Arie Luyendyk Jr. on The Bachelor, Becca Kufrin is back as The Bachelorette, and judging by the Season 14 premiere, she definitely has her work cut out for her.
Even though Becca's been likable from the start, it was impossible not to root for her after Arie showed up to one of their safe house dates with a camera crew in tow, just so he could tell her he changed his mind and he wanted to get back together with his runner up, Lauren Burnham, instead.
But at this point, Arie is old news, because Becca has a fresh batch of 28 guys prime for the taking, and after witnessing their limo arrivals, there's definitely a lot of potential here.
Here are all the delightfully-cringey-but-still-sweet moments you might have missed:
Okay Ladies, Now Let's Get in Formation
And OMG, this time they were not holding back.
Kaitlyn Bristowe, Rachel Lindsay, and JoJo Fletcher all came by the mansion to impart their wisdom on Becca… and then, champagne glasses in hand, saged the place to get rid of all that bad Arie juju.
Is it even safe to wave around all that sage with an open drink in your hand? Asking for a friend.
Warning: This segment involved the first "Let's do the damn thing!" of the season. And yes, it was just as awful as you'd imagine. Brace yourself for many more.
The best part of this segment, though, was when Rachel said "f**k him" in reference to Arie. Isn't that what we're all thinking?
Way Too Many Arie References
Because obviously, the best way to win over a woman is by bringing up the ex-fiance who dumped her at every possible opportunity, right?
There was an Arie cut-out and a man who stripped out of a racing uniform — can we please give the poor girl a break from thinking about that garbage fire of a finale she had to live through in March?
A few of the guys seemed awesome right off the bat, like Garrett, who rolled up in a minivan to show how committed he was to marriage and a family, and Trent, who arrived in a hearse because he "literally died" when he found out Becca would be the Bachelorette.
Cheesy, yes? Memorable? Also yes, and that's what counts.
There For the Wrong Reasons
There's usually not this much drama this early in the season, but the first cocktail party really gave us some.
Basically, one of the guys — Chris — knew the ex of another one of the guys — Chase — and had heard some shady things about him that indicated he wasn't on the show for the right reasons.
Chris was torn on whether or not he should say anything, but the other guys egged him on, telling him he should totally confront Chase. Obviously, that didn't lead to anywhere good.
From what we understand, this girl dated Chase for about two weeks a long time ago, but whatever happened between them was so bad she's still stewing about it two years later. We didn't get the whole story, and unfortunately, neither did Becca. Could this be this season's Ross moment?!
After Chris attempted to white knight the situation, Chase went in to talk to Becca one-on-one to get ahead of it. He was visibly very nervous and barely made any sense while he was trying to tell her what was going on, so he did the worst possible thing he could do at that point: invited Chris in so they could hash all this out, putting this convoluted pile of drama on Becca's lap that didn't make any sense (to her or anyone else).
In the end, Becca let it go, but we have a feeling this awkwardness is not over.
An Early Dismissal
Becca is serious about the process, y'all.
This dude, Jake, who Becca knew from her hometown of Minneapolis, showed up to try to win her heart, despite the fact that they've run in the same social circle for years and he never made a move.
Becca saw right through him and sent him packing, because in her words, if he hadn't made a move then, he pretty much already lost his chance. Damn, girl!
Right after sending Jake home, she awarded Garrett with the first impression rose and a few kisses. Guess that minivan did the trick!
The First Rose Ceremony
After seeing Becca send Jake home early, everyone was prettttyyyy freaked out, so this first rose ceremony had her contestants on edge even more than usual.
In the not-so-shocker of all shockers: poor "Social Media Participant" Kamil was sent packing. Maybe Becca didn't see a future in his career path? And unsurprisingly enough, Becca also sent home Chase — he only threw up, like, every red flag the first time they met.
The worst kind of the wrong reasons. #TheBachelorette pic.twitter.com/jloHNcXdr1

— The Bachelorette (@BacheloretteABC) May 29, 2018
But there are plenty of guys remaining, and according to the giant trailer that aired at the end of the episode, we have a lot to look forward to this season.
Let's just cross our fingers that no one says "Let's do the damn thing" ever again but we doubt it.
The Bachelorette, Mondays, 8/7c, ABC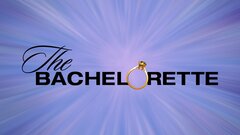 Powered by