'Vida': Emma & Eddy Clash Once Again Over the Family Bar (VIDEO)
Will Emma (Mishel Prada) and her deceased mother's wife, Eddy (Ser Anzoategui), ever agree about, well, anything, on this week's episode of Vida?
The Starz dramedy is stirring up social media not only by being one of the few Latinx series on television, but also for its unapologetic look at sex and sexuality (the opening scene of last week's episode shows that the Tanya Saracho-created series is not messing around and is going there in every aspect).
The series focuses on two sisters, Emma and Lyn (Melissa Barrera), who return home after the death of their mother to find a pile of debt for the family-owned bar and building. They also find out their mother, unbeknownst to them, had come out of the closet and married a woman, Eddy.
See Also
Caitriona Balfe & Sam Heughan just landed major movie roles.
As you'll see in the exclusive clip below, Emma is ready to find a new name for the family bar, since she thinks the current name, La Chinta, is racist and one of the reasons why the watering hole has never brought in great business.
But, the bigger question: If it is decided to rename the bar, what will that name be? Check it out:
Vida, Sundays, 8;30/7:30c, Starz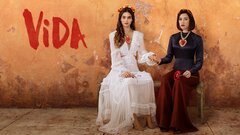 Vida
where to stream
Powered by