TV News Roundup: Jennifer Aniston as POTUS, '13 Reasons Why' Cancels Premiere, 'Ballers' & 'Insecure' Return
All your must-know Friday TV News:
'First Ladies'
Jennifer Aniston will play the President of the United States and Tig Notaro will play the First Lady in "First Ladies," a new Netflix movie Notaro is writing with @StephAllynne pic.twitter.com/WcaiFQgQI6

— See What's Next (@seewhatsnext) May 18, 2018
Netflix announced that Jennifer Aniston will play the president of the United States and Tig Notaro has been cast as her wife in the political comedy, First Wives.
"When Beverly and Kasey Nicholson move into the White House, they'll prove that behind every great woman … is another great woman," the streaming service said.
Notaro and Stephanie Allynne are writing the movie and producing along with Aniston. Adam McKay, Will Ferrell, Jessica Elbaum, Betsy Koch and Chris Henchy are also set to produce.
Paying Respect
Netflix has decided to cancel the premiere event to celebrate Season 2 of 13 Reasons Why in light of the fatal shooting that happened Friday morning at a Santa Fe High School in Texas.
"Our hearts are with the victims of the Santa Fe High School shooting, and with all victims of gun violence. In light of today's tragedy, we are cancelling the 13 Reasons Why S2 premiere event tonight," Netflix said in a statement.
Part of the Season 2 plot focuses on a school shooting story line.
Funniest Girl in the Room
The Break with Michelle Wolf is the comedian's upcoming, weekly half hour variety/sketch series, which premieres on May 27.
You know her from emceeing the 2018 White House Correspondents Dinner and previously working on the The Daily Show and Late Night with Seth Meyers. Now, it's her turn to sit behind the desk.
The Break with Michelle Wolf, Series Premiere, Sundays beginning May 27, Netflix
'Ballers' is Back
"LA can be a dark place, brother," says Spencer (Dwayne "The Rock" Johnson) to his on-screen bestie and business partner Joe (Rob Corddry). Season 4 of Ballers finds the duo trying to conquer the West Coast city as "media titans" after they've burned too many bridges in Miami.
And it doesn't look like anything goes according to plan.
Ballers, Season 4 Premiere, Sunday, August 12, 10/9, HBO
The Most Important Question
When is Insecure coming back? It's the most asked question for the cast, and now we finally know!
The HBO comedy series is returning for Season 3 on August 12 on HBO as announced by the series creator and star Issa Rae on social media.
We're True Crime-Obsessed
Hulu announced it has ordered The Act, a seasonal anthology true crime series from writers Nick Antosca (Channel Zero) and Michelle Dean, who will also serve as EPs and co-showrunners.
The show will explore startling, stranger-than-fiction, true-crime stories, with the first season inspired by Dean's 2016 Buzzfeed article "Dee Dee Wanted Her Daughter To Be Sick, Gypsy Wanted Her Mom To Be Murdered."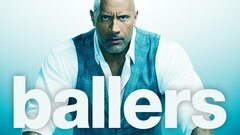 Ballers
where to stream
Powered by
Powered by