'Elementary': Walk the Moon's Kevin Ray Discovers a 'Revolutionary' Murder (VIDEO)
Who knew being part of a Revolutionary War battle reenactment could prove deadly? Not the pretend musket ball to the chest kind of dead, but a modern gunshot wound that is irrevocably fatal.
That's the unexpected reality that one of the pretend fatalities — during a Battle of Harlem Heights reenactment — discovers in Elementary's Monday, May 14 episode.
See Also
Plus, what's going on with Sherlock?
In our exclusive sneak peek, a character named Kevin discovers the "soldier" doing such a good job lying still on the ground, is not indeed acting. Time for Holmes (Jonny Lee Miller) and Watson (Lucy Liu)!
Music fans might recognize the startled character, who discovers the body as bassist Kevin Ray from the band Walk the Moon.
"I was thrilled to snag a part in Elementary," says Ray. "The cast and crew are amazing to work with and the writing is so captivating. Filming a revolutionary war battle was such an immersive experience and I would love to do more period pieces in the future."
Now that he's experienced at playing a Revolutionary War victim, could there be room among the corpses on an upcoming Outlander episode?
Elementary, Sunday, May 13, 10/9c, CBS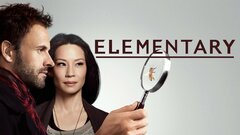 Powered by