'S.W.A.T.' Star Jay Harrington on a Game-Changing Episode for Deacon & Hondo (VIDEO)
Thursday night's episode of S.W.A.T. is going to be a big one for Deacon (Jay Harrington) and Hondo (Shemar Moore).
In "Hunted," the two try to get some intel on a biker gang, only to be ambushed and hunted through the Angeles Mountains by a group of armed mercenaries. Intense! And Harrington tells TV Insider filming these scenes was just as intense.
"We shot four days at 8,000 feet in the mountains (north of Los Angeles), and I loved every minute of it!" he gushes. "It was a lot of hard work, but a lot more fun! I can remember playing cops and robbers as a kid in the woods, and Shemar and I basically got to do that here."
But it's not all action — the actor details that this episode will bring a pivotal moment where the men address a conflict that goes all the way back to the pilot.
Harrington continues, "I think that our audience is going to be really happy to see some of the storytelling in this episode, and anyone who is watching S.W.A.T. for the first time on Thursday, is going to see a really incredible episode filled with action, but a ton of heart and grit, too.
"Shemar and I worked our butts off up on that mountain but we had a blast, and I can't wait to see how it all came out!" he concludes.
In the below exclusive clip, "Hondo gets cut pretty bad, so I'm stitching him up, so we can try to get away," Harrington explains. Watch it now:
S.W.A.T., Thursdays, 10/9c, CBS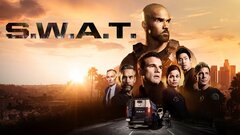 Powered by