Why Tom Arnold Is Definitely Not Coming Back for the 'Roseanne' Revival
It's no secret that former Roseanne co-stars Tom Arnold and Roseanne Barr have a complicated relationship.
Their tumultuous romance didn't last — they divorced after four years of marriage in 1994 — but they've also occasionally reunited publicly, with Arnold even participating in Comedy Central's Roast of Roseanne in 2012. Just don't expect the ex of the show's titular star to show up on the recent ABC revival.
See Also
The actor worked on the original 'Roseanne' from 1988-1993.
In an interview with The Howard Stern Show, Arnold revealed that he wasn't asked to participate in the reboot of the beloved sitcom. In fact, he detailed that he offered himself up if Roseanne needed him, but was promptly turned away with some surprising news.
"I heard the reboot's coming back, and I say to my manager… to call my agent, John Burnham," the actor-comedian told Stern before offering up an interesting aside. "By the way, John Burnham's claim to fame at ICM [International Creative Management] was that when Roseanne and I got divorced, he stuck with me."
But there's a catch to this story, as Arnold continued, "I said call John Burnham, and… have him find out who Roseanne's agent is and just say, if they need me at all — cause I felt we're on good terms — if they need me, I'll do something in the reboot. So my manager calls me [and tells me] Roseanne's agent is now John Burnham. And I go 'what?!' He did not tell me that."
Needless to say, Arnold caught off-guard by the news that his ex-wife was now represented by the same agent. He's no longer represented by Burnham, and no more details were given about the matter. But ultimately, we now know it stopped him short with his offer to return.
Roseanne, Tuesdays, 8/7c, ABC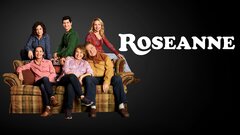 Powered by