'Weird Al' Yankovic Joins 'Comedy Bang! Bang!' as Bandleader and Co-Host Weird Al, who's often appeared on Scott Aukerman's IFC series, will replace Kid Cudi, who last year replaced Reggie Watts.
Because The X-Files didn't premiere until 10:24 pm ET last night, only partial date is available at the moment. But so far, the ratings look good. PLUS: Fox fumbles the transition from NFL to X-Files.
Amid calls for a boycott, the Academy is reportedly seeking a famous big name who is black such as Oprah Winfrey and Morgan Freeman.
Nationwide isn't even taking advantage of its pitchman, Peyton Manning, playing in Super Bowl 50.
"There are parts of this case that no one else knows," says Kratz. PLUS: Kratz reportedly wanted Steven Avery to confess so he can write a book on it.
Burnett will be presented with the Life Achievement Award on Saturday.
The League alum will recur as a cop who returns to Nine-Nine after a 10-year undercover mission.
"Guys, there's no H," says the former Mad Men star.
Check out the casts of the two hit comedies together at the tribute taping for legendary TV director James Burrows. PLUS: Matthew Perry can't remember three seasons of Friends because he was so "out of it."
Ahead of his Season 3 premiere on Feb. 14, the Last Week Tonight host presents the Lost Graphics of Season 2.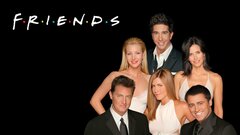 Friends
where to stream