Barry Sloane Talks a New 'Family Dynamic' in History's 'SIX' Season 2 (VIDEO)
TV's original SEAL Team series, Six, is heading back into action on Memorial Day.
Just like its gritty and gut-punching freshman tour of duty, Season 2 is taking inspiration from actual missions undertaken by the U.S. Naval Special Warfare Development Group. Only this time, it's even more personal for the members of the counter-terrorism unit.
"We tried to expand what we had [last year,]" offers Barry Sloane, whose Joe "Bear" Graves is tasked with heading up the hunt for whomever ordered the season-finale attack on former leader Rip Taggart (Walton Goggins).
But while some of that expansion means delving deeper into the emotional lives of Bear and his shaken colleagues, it also means testing just how far the team will go before breaking under some of his more questionable commands. "There's pushback the whole time," reveals Sloane. "We're getting inside their heads more and some of your [feelings] about these men… we're going to challenge those."
And from the looks of this exclusive trailer, we can understand why some of them may not be down with their marching orders. (Yes, that is our guys being forced to work with Dominic Adams' captured terrorist Michael Nasry!)
Without spoiling some of the season's bigger moments, it's clear that a lot is going on here. First, we have those clear signs of inter-unit conflict and a very unclear resolution to Rip's fate. Plus, there's also a major threat on the homefront, along with the introductions of new series regulars Eric Ladin as team addition Trevor and Olivia Munn as a high-ranking CIA officer who will definitely shake up what Sloane calls "the family dynamic" amid this band of brothers.
Six, Mon. May 28, 10/9c, History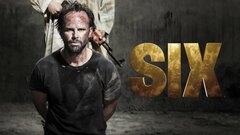 SIX
where to stream
Powered by