7 Things We Learned About 'Westworld' Season 2 at the Tribeca Panel
On Thursday night, Westworld showrunners Jonathan Nolan and Lisa Joy, along with cast members Thandie Newton (Maeve), Evan Rachel Wood (Dolores), Jeffrey Wright (Bernard), and James Marsden (Teddy), graced the stage at the Tribeca Film Festival for a panel discussion about Season 2 of the sci-fi drama series.
The actors and and executive producers talked at length about their characters' development, how time and place will continue to be used as a plot device, and how this season aligns with current societal shifts like the #MeToo and Time's Up movements.
Read on for the seven biggest takeaways from the panel:
7. Thandie Newton Was Just as Shocked About Maeve
"I was in complete denial about the fact that Maeve goes back into the park. I wanted her to get out of there so desperately," Newton explained. Of course, she knew the arc of the character but didn't believe she would turn around.
"The thing about Maeve is that she responded to the betrayal of what happened to her in such a profound way and I think that's what audiences related to," she added. "Your identity is all a lie."
6. Dolores' Identity Is Ever-Changing
The rancher's daughter? Wyatt? Evan Rachel Wood said she didn't know who her character was going into Season 2 — "We kinda just built her from the ground up. We found this new version of her just by doing."
Wood played around with when Dolores' accent should drop or come out and who the dominant personality would be in different situations (Rancher's Daughter vs. Wyatt). She detailed that it was a "trial and error" discovery process.
5. Teddy and Dolores Are Still 'Bound' Together
This season, Teddy is "someone being born into consciousness." Marsden talked about how his character, for the first time, has the power of choice yet still is "bound" to Delores. Even without the programming, Teddy wants to be with her.
4. Time and Space Is Murky
Jeffrey Wright discussed how Bernard's "faculties are completely debilitated" and the character is struggling with "orientation with time and with place." The actor also revealed he filmed scenes from episodes out of sequence and didn't read the scripts fully, so Bernard's and Wright's confusion is actually quite real.
Wood agreed that the actors never really know what the order of episodes is going to be, so filming is all about being "in the moment" with the character.
3. There Are Even More Parks
The Shogun World is apparently not the only park explored in Season 2, according to a new teaser trailer. "This show is about storytelling. This is about a theme park with stories written by writers and creative directors," Nolan hinted.
For Shogun World, they brought out "an entirely Japanese cast, Japanese stunt choreographers."
2. Delos Is Inspired by Today's Silicon Valley
Nolan talked about how Delos takes inspiration from tech giants like Google and Facebook. He explains that these companies can have "an ostensible purpose for the consumer and a completely different purpose for the shareholder and then maybe a completely different purpose for the company founders."
1. Nudity Has a New Meaning in the #MeToo Movement
Joy spoke about how nude scenes are difficult and put actors in a vulnerable position. She shared that she was very open with the cast about the level of nudity on the show, and she tried to safeguard as much as possible.
The EP drew inspiration from her time visiting museums as a child, looking at the sculptures and appreciating "the idea of the human body as art as perfection." Her goal is to only keep scenes that are essential to the story, so when the hosts get power, "they're not going to spend a lot of time naked on a stool."
Newton seconded the sentiment, adding that the nudity is "not gratuitous" and how the crew handled it with a "grace and sensitivity" she'd never experienced on-set before. "It is a revelation to me," she gushed.
Joy was quick to add that the male actors on the series were just as open to nudity and felt it was only fair to their female counterparts.
Westworld, Season 2 Premiere, Sunday, April 22, 9/8c, HBO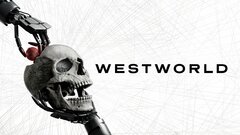 Powered by