Kate Gosselin Returning to TV in TLC's New Docuseries 'Kate Plus Date'
So many shows are getting the reboot treatment that even reality TV is getting it's turn with shows like Jersey Shore Family Vacation, and now, TLC's Kate Plus Date. Yes, Kate Gosselin is back!
Rather than focusing on the former Kate Plus 8 star's kids, the docuseries will follow the mother of eight as she enters the dating pool.
See Also
The host and the designer recall their show's most heartbreaking reveal. Plus, look back at other 'Spaces' goofs that made great TV.
According to People, who first broke the news, Kate's sudden interest in dating was spurred on when twin daughters Mady and Cara started preparing for college. The 43-year-old single mom then started to think about her own future as an empty-nester.
Kate and ex-husband Jon Gosselin finalized their divorce in 2009, only two years after the couple and their brood became popular reality TV personalities on their TLC show, Jon & Kate Plus 8. After that, she did stints on Dancing with the Stars and Celebrity Apprentice, and fronted the aforementioned TLC spinoff.
Kate said to People of her new chapter, "I'm nervous, I'm excited, and I'm forcing myself to do this… As we're talking about Mady and Cara going off to college which is becoming more and more of a reality, it's gonna happen, it almost became like a worry for them, too, like 'Mommy, you're gonna be all alone soon.'
"But it was very apparent, now that they're older and talking about dating and how they're all gonna get married someday… it became apparent: they want someone for me. They want me to have somebody in my life."
Don't expect her to sign up for dating apps though. She reasoned, "If I'm going to date someone, I can't just go out on a date—it's creepy to me to think of just going out somewhere with some stranger. I actually feel like doing it like this is the best and safest way for me to go on a date—a camera crew will be there! I'll be safe!"
Consider us curious about Gosselin's dating ventures, and we're sure there will be more than a few fans tuning in.
Kate Plus Date, Fall 2018, TLC
Powered by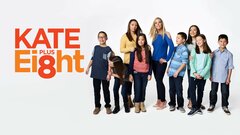 Powered by