Roush Review: Hank Azaria Is Raunchier Than Ever in 'Brockmire' Season 2
Three strikes and you're… drunk. That outrageously debauched and disgraced baseball sportscaster Jim Brockmire is back, played to the boozy, self-loathing hilt by a profoundly profane Hank Azaria. He's worse, and funnier, than ever in Brockmire's raunchy second season, which goes to such dark places you may need a flashlight.
"I may not be in the major leagues, but I've really upped my game when it comes to my alcoholism," he brags to ex Jules (Amanda Peet) when she visits him in New Orleans, a city not known for moderation — thus perfect to continue his sordid slide to rock bottom.
Make that "Brock Bottom," the title of his alcohol-fueled podcast, a hit thanks to long-suffering producer sidekick Charles (Tyrel Jackson Williams). Meanwhile, Brockmire's announcing career continues to fester.
With a memorable guest appearance by Carrie Preston as a psycho barfly, Brockmire leaves us in shocked awe. And hold the intervention, because IFC has already locked in two more seasons.
Brockmire, Season Premiere, Wednesday, April 25, 10/9c, IFC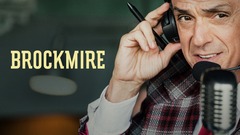 Powered by