'The Good Doctor' Is Shaking Up Its Cast in Season 2
The Good Doctor had a phenomenally successful first-season run, but the cast is being shaken up for Season 2, as one cast member is clocking out, and four are being promoted to series regulars.
Chuku Modu, who played surgical resident Dr. Jared Kalu in Season 1, isn't returning to the medical drama, according to Entertainment Weekly. The move makes sense, considering Dr. Kalu was offered a position at a hospital in Colorado in the season finale.
Moving into full-time positions at San Jose St. Bonaventure Hospital are Will Yun Lee (Dr. Alex Park), Fiona Gubelmann (Dr. Morgan Reznick) and Christina Chang (Dr. Audrey Lim).
Also becoming a series regular is Paige Spara—whose character Lea is a love interest of Dr. Shaun Murphy (Freddie Highmore). Last time fans saw Lea, she was heading to the East Coast, but it looks like she changed her mind.
The ABC show returns in Fall 2018.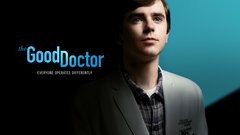 Powered by