Roush Review: 'Paterno' Drops the Ball
Fallen heroes are the stuff of great drama, but director Barry Levinson fumbles in Paterno, his latest HBO docudrama collaboration with star Al Pacino (You Don't Know Jack, Phil Spector), who's found another role that's a perfect curmudgeonly fit.
There's no faulting Pacino's methodical impersonation of the legendary Penn State football coach. At 84, Joe Paterno spends most of the movie stewing in irritable confusion as a sex-abuse scandal erupts involving his former defensive coordinator Jerry Sandusky, indicted on multiple counts of child molestation. Sandusky remains a background figure throughout: barely seen, never heard, a monster in the wings whose relationship to the coach and the university brass is never adequately explored.
See Also
Does the beloved actor still worry about being typecast as the Fonz? We asked!
Questions of moral responsibility dog Paterno, who'd rather focus on the next game than read the charges, which exasperates his family (including Kathy Baker as his loyal wife and Greg Grunberg as one of his sons) while the media hover in their usual circus, obsessing on what Joe knew and when and why he didn't take his suspicions to the authorities. Paterno mostly takes place in the week leading up to his 2011 firing, which sparked a campus riot led by "Joe Pa" acolytes. It's bookended by triumph (his record 409th win) and tragedy (his subsequent cancer diagnosis), an overly tidy arc for such a messy story.
Perhaps a man who has to ask "What is sodomy?" is to be pitied, but the pathos of a ruined reputation pales next to the horrors of Sandusky's crimes. And though it's possible that a dramatist like Arthur Miller could have fashioned a memorable tragedy from this material, I found myself agreeing with the man who complains to future Pulitzer Prize–winning reporter Sara Gamin (a very good Riley Keough) during the aftermath: "Why the heck is anyone talking about Joe Paterno?"
Paterno, Saturday, April 7, 8/7c, HBO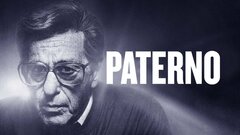 Paterno
where to stream
Powered by