Best Episodes Countdown #8: 'Sex and the City' — "My Motherboard, My Self"
Check back with TV Insider daily as we countdown the 10 Best Episodes of the 21st Century, including picks from favorites like The Sopranos, Lost, Buffy the Vampire Slayer, and more.
It's all leading up to the top pick reveal on Tuesday, April 10. Stay tuned, and sound off on our choices in the comments below!
Season 4, Episode 8
"There's the kind of support you ask for and a kind of support you don't ask for… and then there's the kind that just shows up." — Sex and the City
If you didn't well up at this voiceover, as writer Carrie (Sarah Jessica Parker, right) joins devastated bestie Miranda (Cynthia Nixon) in her mother's funeral procession, you may be as fried as Carrie's poor laptop.
Elevated by poignant turns from Parker, Nixon and Kim Cattrall (a surprisingly sympathetic Samantha), this was the first time SATC's Manolos walked into deeply emotional territory, and we were rewarded with a salute to female friendships more powerful than all the Cosmo-soaked antics that came before—or after.
Sex and the City, Streaming now, HBO Go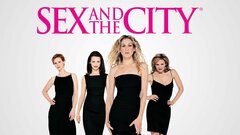 Powered by