'X-Files' Creator Chris Carter Teases the Season 11 Finale—Plus, a Sneak Peek! (VIDEO)
In tonight's Season 11 finale of The X-Files, Mulder (David Duchovny) and Scully (Gillian Anderson) rush to find an on-the-run William, while the Cigarette Smoking Man pushes forward with his ultimate plan.
Speculation abounds on whether this is simply the end of a season, or if this could serve as the conclusion of the sci-fi series. TV Insider spoke with series creator Chris Carter ahead of the episode, and he promises it will be one of the show's most shocking.
See Also
The penultimate episode of Season 11 left fans on a cliffhanger.
He also reveals that the final minutes of the episode will leave viewers stunned, teasing, "I'm calling this one of the biggest cliffhangers we've ever had." TV Insider will be here the moment the episode concludes to share Carter's explanation for the episode's most WTF moments.
Here's what you need to know about "My Struggle IV" ahead of time:
The Name Game…
This is the fourth time The X-Files has used "My Struggle" in an episode title and Carter has written and directed each of the mythology-based episodes: "My Struggle 1," Season 10, episode 1; "My Struggle 1" Season 10, Episode 8; "My Struggle III" Season 11, Episode 1; and "My Struggle IV" Season 11, Episode 10. Carter explains, "They really are four quarters of a whole. And I think that maybe threw some people at the beginning of last season, and even at the end of last season. But I think that you see, as you have seen, that they were puzzle pieces—four puzzle pieces to form a circle."
Talent for Miles and Miles…
The plum role of William/Jackson Van de Camp was snagged by 17-year-old Miles Robbins, and Carter shares, "You really can't take your eyes off of him; he's got a presence, he's got that certain something. And he was right for the character, which we always had imagined as someone who was living, not in light, but in a certain amount of darkness—given what he'd come to understand about himself."
See Also
Hint: there was dancing involved.
Carter also tells TV Insider, "I worked a little bit with Miles Robbins as Jackson/William, and what was really interesting working with him as an actor is I had written something, and then he kind of made it his own—throughout the script. And I appreciated that, and I kind of let him go."
Great acting instinct is literally in Miles' blood; the young thespian is the son of Oscar-winners Susan Sarandon and Tim Robbins.
Take a look at Robbins in this exclusive clip from "My Struggle IV"
A Family Affair…
Also in the episode, David Duchovny's daughter West makes her acting debut. Carter says, "It was the first time I ever worked with her because it was the first time she'd ever worked; this was her screen debut. She came in, she was poised, she was prepared. She also made it her own; she came in with, you know, some attitude and that attitude was also a part of the character. She had worked on it hard." Keep your eyes peeled for the young actress as "Maddy."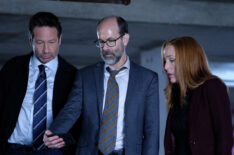 See Also
Plus, he reflects on his time with the series.
A Bloody Good Time…
Carter also tips his hat to the series' effects departments for exceptional work in the episodes "Nothing Lasts Forever," and "My Struggle IV." He reveals, "All that makeup-effect and visual effects are really hats off to Curt Miller, our visual effects supervisor, and Bill Terezakis who has done our special makeup now for well over a decade."
The X-Files, Season Finale, Wednesday, March 21, 8/7c, FOX