'The X-Files': What Did Scully Whisper to Mulder in Those Final Moments?
In Wednesday's episode of The X-Files titled "Nothing Lasts Forever," Mulder (David Duchovny) and Scully (Gillian Anderson) worked on a peculiar case, but it wasn't the age-defying cult leader they were searching for who took the episode's metaphorical cake. Instead, it was the partners' candlelit conversation with religious undertones.
As the episode followed its featured procedural case, Mulder and Scully's shining moments were in the scenes they shared together, and one simple gesture at the end of the episode has set fans off. After it was announced that Gillian Anderson would leave the show after this season, there's been speculation over whether this will be the show's last as well, which makes the final scene in this Season 11 penultimate episode all the more meaningful.
See Also
The pair run into some pushback while investigating a youth-obsessed cult.
Following their casework, Mulder and Scully find themselves in a church, and she attempts to light a prayer candle, but the flame doesn't hold.
"That must be a sign. I'm all out of miracles," she says. Quickly assessing the situation, Mulder covers Scully's back by lighting it himself despite his lack of religious enthusiasm.
The pair discuss prayer, and Scully explains that prayer is a "conversation" that can be done like "meditation," but she notes that Mulder's disbelief in God would make the conversation one-sided in his case.
"Well, I may not believe in God, but I believe in you. Therefore, I speak to him through you," he tells Scully candidly.
As he tries to explain how this works, Mulder sums up his reasoning by saying, "isn't that why we're so good together?" Her response mirrors what most fans are wondering as well. "Are we together?" she asks.
Ultimately, this sparks a rehashing of what-ifs, regrets and things they wouldn't change about their relationship—romantic or not.
Finally, Mulder voices that he doesn't know if any God is listening to their conversation but, "I am standing right here, and I am listening," he tells Scully.
She then leans in to whisper an unknown dialogue into his ear. "That's not my four-year-old self looking for a miracle," she tells him. "That's my leap of faith forward. And I'd like to do it together," concludes Scully.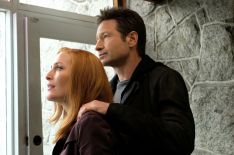 See Also
The video previews what's to come in the next five episodes.
Mulder's next words would have the viewers buzzing for days to come as he tells her,"I've always wondered how this was gonna end."
Is he alluding to the end of it all? Are fans of The X-Files going to have to say goodbye when the March 21, Season 11 finale airs? Probably, although the network has made no comment on the matter, Mulder's words hint at closure for the beloved characters.
Meanwhile, many can't get past what Scully could have whispered to Mulder. The episode's writer Karen Nielsen spoke with The Hollywood Reporter about the pivotal scene.
"That's between Mulder and Scully," says Nielsen. "Having those private moments, it's important for any couple."
See Also
The stars and executive producers reveal what's in store for the Fox drama.
So what does that mean for fans? They'll likely never know what was privately shared between them, as Nielsen continued to speak. "It'll always be between Mulder and Scully," she teases THR. "It's not for anyone else. That was their moment."
Well, if fans can never know, at least they can take solace in the fact that next week's finale will likely be jam packed with exciting moments and revelations. And if it does mark the series end, we doubt the episode will disappoint.
The X-Files, Season 11 Finale, Wednesday, March 21, 8/7c, Fox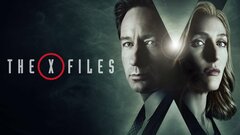 Powered by