'Shades of Blue': Ray Liotta Weighs in on Wozniak's Big Reveal
Spoiler warning! Stop reading if you have not yet seen this week's episode of Shades of Blue.
Everybody's got a secret on Shades of Blue, and this week we finally found out what was lingering in Lieutenant Matt Wozniak's closet. The gruff and corrupt cop played by Ray Liotta is secretly bisexual, as viewers discovered during a clandestine romantic scene with Internal Affairs officer Donnie Pomp (Michael Esper) in Thursday's episode, "False Face, False Heart."
Liotta, who has a reputation for playing gruff cops and criminals in films like GoodFellas, did a double take when he learned about the twist. "I read the script and thought, 'this is really good,' and all of a sudden there was this one little scene where this guy comes in and the script says my hand lingers on him a little bit longer, and I said, 'Oh my God, I'm gay in this. I'm bisexual. Holy s—t! It knocked my socks off," Liotta tells TV Insider of the original plan for the reveal in NBC's new Jennifer Lopez cop drama.
Wozniak, a corrupt New York City police lieutenant who runs a squad of dirty detectives, hid his sexuality in the first two episodes, where we met his wife, Linda (Lolita Davidovich). "I'm an actor," Liotta says of playing this new facet to his character. "I never killed anybody and yet I've played a killer. I'm not married and yet I've played married people. So everything is acting. But trust me, it was odd."
When producers had second thoughts about that initial hand-lingering encounter Liotta was not pleased. And everybody knew about it. Spend a few minutes with him and you understand that he is personally as intense and outspoken as most of his famous characters. "I was like, what are you, f—–g nuts!," he told them about cutting the scene. "That's the stupidest f—–g idea I've f—–g heard."
NBC Entertainment chairman Bob Greenblatt stepped in to resurrect the moment. "Bob wanted the scene back, so they wrote another one which is really good; much better than the first," Liotta says.
Greenblatt believes the development will help flesh out the character. "Expect his character to be ready to explode, to show a great vulnerability at the center," he says. "We needed somebody really great to play the complexity of that part."
The pivotal scene between Wozniak and Pomp took place in a hotel room after they discuss Wozniak's belief that Det. Harlee Santos (Lopez) is indeed a mole working for the FBI. They kissed and then, "the next thing you know, I'm changed and he's taking a shower," Liotta says. Although the entire scene is not played out on camera, there is no doubt what has just taken place.
"It was a trip, man," says Liotta. "We kiss. We kiss about three times. I'm totally straight. It was the ultimate, ultimate acting for me. You know, to kiss a guy on the lips. I'll tell you one thing I learned: Two men really, really should shave their stubble because it hurts when you kiss! And he had stubble. I kissed him, not tongue or anything, but I did."
Shades of Blue airs Thursdays, 10/9c, NBC
[jwplatform yvpWIQ3o]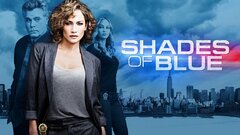 Powered by