New Line Greenlights a 'Sopranos' Prequel Film From David Chase & Lawrence Konner
Viewers will soon revisit the world of The Sopranos, since New Line has just greenlit a prequel film from the series creator David Chase and writer Lawrence Konner. The two collaborated on the screenplay, which the company purchased.
See Also
The 'This Is Us' patriarch isn't the only loss that's made us cry.
For the time being details remain vague, but their screenplay is titled The Many Saints of Newark and is set in New Jersey during the '60s. The setting relates to the race riots that occurred there during that time, and although there's no specific details, it will include appearances by some fan favorite Sopranos characters.
Obviously, they wouldn't be portrayed by the main cast since it's set so far back in time, but here's to hoping maybe Dominic Chianese might pop up as Junior, since he can be made to look younger and frequented flashback sequences in the series.
The announcement comes as a surprise since many fans believed the hope of a film was squashed after the death of star James Gandolfini—really, who else could ever play Tony Soprano but him.
For years following that controversial series finale, fans have been begging for something, so it's exciting to see this project coming to life. Once a director is found, hopefully the casting will get underway, if fans learned anything from the show's series finale, it's "Don't Stop Believin'."
The Sopranos, Available for streaming, HBO Go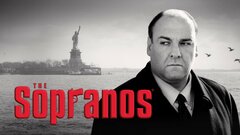 Powered by