'Hollywood Medium' Tyler Henry Previews Jim Parsons & Kristin Cavallari's Emotional Readings
Tyler Henry knocked on the door of a beautiful Nashville home unsure what awaited him. It was Kristin Cavallari and she needed him.
Tyler had no idea who the former The Hills star was. Kristin didn't care, she was thankful the medium made the journey and wouldn't know her story. Their emotional connection is part of the Season 3 premiere of Hollywood Medium With Tyler Henry on E! Wednesday, February 28.
"In the case with Kristin, it actually helps that I didn't recognize her because she was just another face, and the connection was really special," Tyler tells TV Insider. "I have to have confidence in what I see, hear and feel, and I prefer to not know anything."
The Cavallari family story is tragic. In 2015, Kristin's older brother Michael, age 30, was reported missing. His wrecked car was found in the high desert of Grand City, Utah, but his whereabouts where unknown.  His body was later discovered roughly three miles from the car. How he got there and what he was doing was unknown. He died of hypothermia. The Cavallari family was left with countless questions on how this could have happened and whether it was an accident.
For the reading, Kristin gathered the sweatshirt her brother was wearing at the time of his death, and placed it next to Tyler in hopes of making a connection. Her parents watched the emotional reading in a separate room. We asked Tyler to share what he experienced when making the connection:
"I really liken my job to like a mailman. My job is just to deliver the message or whatever comes through, but when it comes to more difficult cases, like situations where you have depression or mental illness or drug addiction, I really try to be extra sensitive in my delivery of how I formulate that information," he shared. "I think especially when you have the television element of it, it's something that I have to be extra diplomatic about. But the goal is to get that validation, and even when there's difficult things to say, I feel like it's still very important to say them, because that's my job, just to deliver the message."
So just exactly what does he feel, see and hear …
"When I was sitting across from Kristin, it initially just started off as a feeling. I was starting to connect, and I got a feeling in my gut, and that was more emotional and that felt kind of sad. I knew when I was experiencing that, that was a spirit communicating their state of mind before they passed—it wasn't how he was feeling on the other side," Tyler explained. "As I focused on that, I started getting inundated with images and I started getting overwhelmed, so it became very intense, and it's part of why I often sweat during these readings."
Tyler's message was life-changing for Cavallari.
"They're having me talk about two factors playing on someone's mental state," Tyler told Cavallari. "But there's an acknowledgement with this of more of an emphasis on the drugs and alcohol than even as the mental illness thing. It's when we go down the drugs and alcohol route, it's kind of like, there's no saving me. That kind of triggered or kicked off some things."
Tyler goes on to explain what happened to Mike after he was in the auto accident and confirmed that he didn't intend to end his life. Cavallari painfully sobbed: "It just f***ing kills me." Her parents' reaction was even in more heartbreaking.
On a somewhat lighter part of the episode, Tyler makes a visit to Jim Parsons. "Jim was fun," he told us. "I was sort of having dreams of Jim Parsons months before we met. I was watching a TV show, Chelsea [Chelsea Handler's talk show on Netflix], and she had a full discussion with Jim, and he brought up my name and brought up wanting to get a reading, and then literally a week later he opened the door, so I was just completely floored. It was like that would be amazing, I'd love to meet him some day, and then sure enough, it happened."
Parsons had a fascinating experience prior to the reading where his house was swarmed by fireflies and hummingbirds, as if they all showed up in anticipation of a spiritual connection.
"I absolutely am reminded time and time again that we're all interconnected, and in doing these readings, I really see how they communicate, and it obviously transcends physicality. It transcends language, and they are able to communicate to us, at least through everything," Tyler said. "Through nature, through our dreams, through our feelings. That's kind of a hard thing to understand for a lot of people, but I see examples of it all the time, and I think they're signs to be embraced. I don't think we have to understand something to benefit from it, and I find it really comforting."
Hollywood Medium With Tyler Henry airs on E! 9/8c.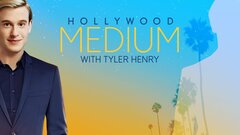 Powered by