'Crazy Ex-Girlfriend' Tour: 'We Want to Give Back to the Fans' Says Rachel Bloom
Most TV casts spend their hiatuses doing side projects or enjoying a little break. But the gang from The CW's musical comedy Crazy Ex-Girlfriend is using their time off to go on tour.
Star Rachel Bloom, costars Vincent Rodriguez III, Pete Gardner and Scott Michael Foster and producers are embarking on an eight-city jaunt March 27–April 10 to showcase some of the series' 100-plus original songs. "We want to give back to the fans who have been so loyal," Bloom says.
See Also
Reviewing the CW series' genius, moving, and wacky third season.
And you don't have to be a crazy Crazy fan to enjoy the live shows (tickets are available at RachelDoesStuff.com).
"The songs come from the emotion of the story, but they're not rooted in the plot," she says. The setlist is still coming together, but Bloom says fan favorites like "Let's Generalize About Men" and "Getting Bi" will likely make the cut.
And if Crazy Ex-Girlfriend gets renewed for Season 4, Bloom confirms it will be the last. "Our story is this narrow, small time in a woman's life," she says. "It's always been a four-season show."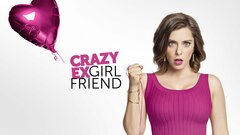 Powered by