Tragedy Strikes on 'Victoria,' John Oliver's Back, and So Is Joel McHale (on Netflix), More Winter Olympics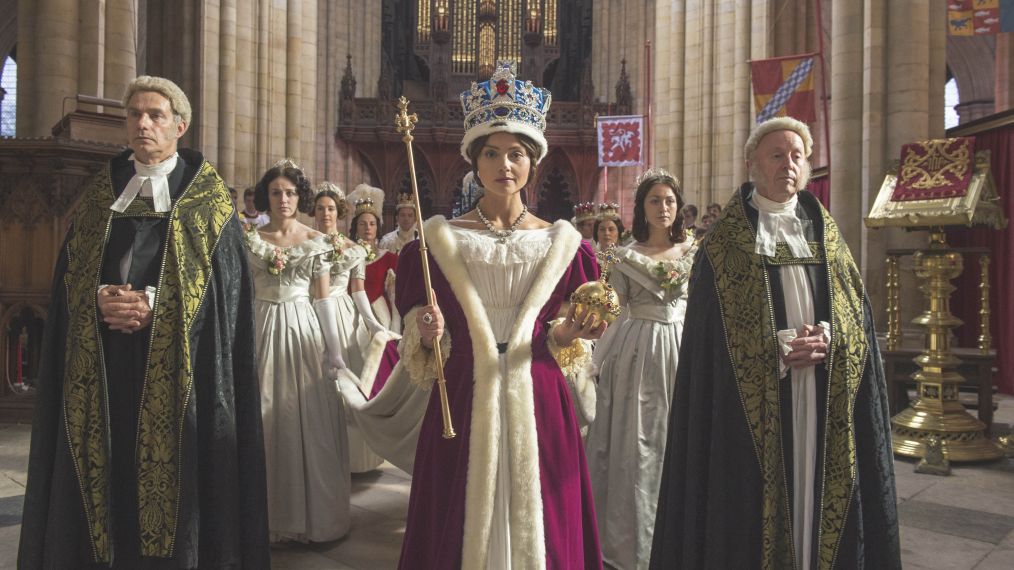 A selective critical checklist of notable weekend TV:
Victoria (Sunday, 9/8c, PBS, check local listings at pbs.org): In the emotionally charged penultimate episode of the popular royal drama's second season, Victoria (Jenna Coleman) and Albert (Tom Hughes) face personal and political challenges. As parents, they're understandably distraught when their daughter falls ill with a dangerous fever, while in Parliament, Prime Minister Peel (Nigel Lindsay) introduces a controversial bill that leads to fateful consequences.
Talk Isn't Cheap: Great news for fans of snark and biting satire. HBO's Emmy-winning Last Week Tonight With John Oliver (Sunday, 11/10c) is back for a fifth season, and it's quite obvious there's no shortage of subjects for the comedian to rant about. Joining the TV-talk fray for Netflix is The Joel McHale Show With Joel McHale (Sunday), a new weekly format that plays to the strengths of the former Community star and The Soup host: snappy commentary about current events and pop culture, with video clips and celebrity guests—including, scheduled for the opener, Kevin Hart, Community co-stars Alison Brie and Jim Rash, plus Paul Reiser, Jodie Sweetin and Mike Colter.
Winter Olympics: Among the scheduled events in the last full weekend of competition in NBC's prime-time packages (Saturday, 8/7c; Sunday, 7/6c): Alpine Skiing and Men's Ski Jump on Saturday, and Ice Dancing in the skating arena on Sunday, along with Speed Skating, Women's Halfpipe, Cross Country, Men's two-man Bobsled, and other sports you probably only see on TV every two years.
Homeland (Sunday, 9/8c, Showtime): I think we can all agree with Frannie (Claire Keane and McKenna Keane), the adorable daughter of out-of-control Carrie Mathison (Claire Danes), when she worriedly asks her mom: "Why are you mad all the time? … You always disagree!" True enough. Even when Saul (Mandy Patinkin) and the rest of the intelligence agents are finally freed by President Keane (Elizabeth Marvel), Carrie isn't satisfied. Trolling the Dark Net for more information to fight the power, Carrie is trolled right back, and makes the sort of stupid mistake even a computer-illiterate like myself would know better than to do. Hardly seems like a fair fight this season.
Inside Weekend TV: BBC America's visually stunning Planet Earth: Blue Planet II (Saturday, 9/8c) dives deep into the ecosystem of green seas, including kelp forests, mangroves and seagrass prairies. … The Olympics aren't the only game being played this weekend. This year's NBA All-Star Game (Sunday, 8/7c, TBS and TNT) tries something new, ditching the usual East vs. West format to let superstars LeBron James and Stephen Curry draft their own rosters. … Hallmark Channel premieres a fifth season of its longest-running current drama, When Calls the Heart (Sunday, 9/8c), pairing it with the latest docu-reality series about the family of Holly Robinson Peete. Meet the Peetes (Sunday, 10/9c) will focus in part on autistic son RJ, who's working for the Los Angeles Dodgers and decides it might be time to leave home. … Absolutely Fabulous star Joanna Lumley hosts BBC America's broadcast of the EE British Academy Film Awards (9/8c), in case you simply can't wait for the Oscars in two weeks. The nominees are pretty much the same, and The Shape of Water once again leads with 12 nominations.