'Notes From the Field': Anna Deavere Smith Highlights the Disenfranchised in HBO Special
Portraying one real-life figure can be daunting enough for an actor—but what about taking on the mannerisms and vocal inflections of 18 of them? Nurse Jackie's Anna Deavere Smith does just that in Notes From the Field, her one-woman off-Broadway show that HBO has adapted as a film for the small screen, premiering Saturday night.
Notes takes a hard look at the school-to-prison pipeline, a long-studied phenomenon in which minors—often from disadvantaged, inner-city backgrounds—find themselves incarcerated due to an increase of harsh zero-tolerance policies within educational environments.
Smith, who conducted hundreds of interviews for the show, explores the issue in-depth by assuming multiple personas onstage: She plays everybody from a young South Carolina girl viciously yanked from her classroom seat by a hotheaded police officer to civil-rights leader Congressman John Lewis (who famously marched with Martin Luther King Jr. in Selma, Alabama) and the deli worker responsible for capturing video of the violent arrest of 25-year-old Freddie Gray in Maryland on his smartphone. (Gray later died from spinal injuries sustained while in police custody.) "Notes is a call to action," says the actress and playwright. "It suggests that we can make a choice as citizens about what we want our society's investment to be."
Smith is optimistic that the filmed version—which Oscar winner Jonathan Demme (The Silence of the Lambs) was attached to direct before his death last April—will enlighten some minds and start a dialogue. "As a practical matter, television reaches more people," Smith says. "I believe that the HBO audience is full of imaginative people who would like to make a difference toward a more humane, joyful society."
Notes From the Field, TV Movie, Saturday, Feb. 24, 8/7c, HBO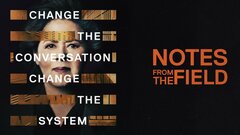 Powered by