Chip and Joanna Are on Their Way Out & These Dynamic Design Duos Are In
The world of home remodeling shows has some big work boots to fill as Fixer Upper stars Chip and Joanna Gaines prepare to say goodbye to their hit HGTV show on April 3.
What will it take to be TV's next top design team? Howard Lee, head of programming at TLC, where original makeover series Trading Spaces reboots April 7, has a simple formula: "We want our design shows to be fun, sometimes messy, but very honest."
Us too! We look at three twosomes who could take the top spot.
Leanne Ford & Steve Ford
Restored by the Fords (Tuesdays, 10/9c, HGTV)
Restored by the Fords features a hip, artsy sister-brother team working on historic homes in Pittsburgh. She's the designer whose outfits define jobsite-chic, and he's the builder who goes from goofy antics to brilliant flashes of creativity. Every design is strikingly original—a refresh of a Mad Men cool mid-century modern classic one week, an update of an ornate Victorian the next. "Each house has a vibe and instead of fighting that, we get into the character," Leanne says. "When new meets old, the magic happens." More magic comes from their teasing family dynamic. "We love and respect each other even if we drive each other crazy."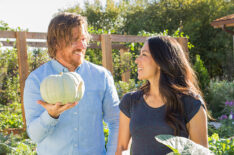 See Also
Fresh off their pregnancy announcement, the twosome has a new special.
DeRon Jenkins & Page Turner
Flip or Flop: Nashville (Thursdays, 9/8c, HGTV)
Flip or Flop: Nashville expands the franchise that features couples buying, renovating and reselling homes. Vibrant, business-savvy Turner finds investment houses, and creative builder Jenkins envisions how to spruce them up. What makes this team different? They're exes who dated for four years before splitting amicably. "We've always said we work well together; we just didn't work well together," Turner says. "We have good chemistry, we're naturally comfortable together and we naturally get on each other's nerves." Not to mention fun banter that can't be stopped by collapsing roofs or rotting foundations.
See Also
Real-estate porn, decluttering sessions, rustic renovations, flipping gambles, dueling decorators and hot twins —here are our favorite HGTV shows from the network's 23-year history.
Nate Berkus & Jeremiah Brent
Nate & Jeremiah by Design (Returns Saturday, April 7, 10/9c, TLC)
On Nate & Jeremiah by Design, the married interior designers rescue homeowners with unfinished renovations. The show stands out due to the pair's caring connection to clients. "We spend so much time trying to craft an environment that reflects the true sense of these families, so of course there's going to be tears," Berkus says. The guys have their design preferences, opting to work with texture, shape and scale rather than color. "We push ourselves to accommodate very atypical situations," Berkus says. "Sometimes it's people who don't have a home or introducing solutions for people with health struggles."