WATCH: 'The Walking Dead' New Season 8B Trailer Promises Devastation, Unity
The first half of The Walking Dead Season 8 promised — and delivered — All Out War. But in a new Season 8B trailer released Thursday by AMC, "finish" is the operative word of the soon-to-debut rest of the season.
And it doesn't look like that's going to be a cakewalk for anyone.
We start with a bleary-eyed Rick Grimes (Andrew Lincoln) declaring what we already know: "I can't be who I was. It's different now." That's because Grimes Junior, young Carl (Chandler Riggs), is not much longer for this world, courtesy of the walker bite he revealed in December's rending midseason finale.
Rick is likely also a changed man because Negan (Jeffrey Dean Morgan) literally dropped a bomb or 40 in the middle of Alexandria, turning the Grimes gang's most longterm home mostly to smoldering embers and ash. But his doomed son leaves him with words of wisdom-slash-encouragement: "Before Mom died, she told me I was going to beat this world. You will."
(And, oh, Carl, your little upturned face to the sun! Sniffle!)
With regards to where the Alexandrians might next encamp, looks like Hilltop's the place — even though Dwight (the oh-so-good Austin Amelio) is not so sure about all of the AHKers residing in one easier to also blow all to hell place.
Daryl (Norman Reeus) is sure. "All of us together will be their worst damn nightmare." From your lips to Jesus'—the real one, not the Tom Payne/Paul Rovia one—ears, sir.
Meanwhile, in the enemy camp, Negan laments the fact that the Alexandrians had their sewer-pipe escape plan. Not that that has impacted his self esteem one bit. "I stop people from dying," he declares. "I am the answer." Just not for whomever the long-haired someone (or something, if it's a walker) that earns a hearty smash from the guy who likes to make a point with his bat.
Oh, and one more thing from Negan: "Once I clip Rick, everything's aces again."
Meanwhile, an on-the-move Rick gives some lip service to a community that has weapons and people. Could be the Saviors, but my guess is he's really talking Oceanside or the Scavengers—folks who could bolster his own ranks. Except things don't look too rosy for a suddenly girly, weepy Jadis (Pollyanna McIntosh). Who kinda has the same hair color and length as who/whatever took that beating from Negan, just saying.
A quick rundown of other teaser tidbits:
Dwight assuring … Tara, maybe? … that  "I've chosen a side. And I'm here to help you beat Negan."
Gnarly swamp walkers
Morgan (Lennie James, who appears to be getting some serious screen time in anticipation of his jump to Fear the Walking Dead) assuring Carol (Melissa McBride), that "We can take them. One by one." Which could be the Saviors. Or could be those gnarly swamp walkers.
Gavin assuring Ezekiel that Negan's going to kill him.
Ezekiel clapping back: "I ferried my people to freedom. I made a choice I could live with."
Father Gabriel (Seth Gilliam) up on his feet and out of the Sanctuary, sporting a weapon and a wicked case of dual pink-eye.
The Walking Dead Season 8 returns Sunday, Feb. 25, at 9/8c on AMC.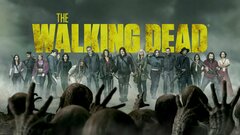 Powered by