WATCH: Netflix Drops First Trailer for 'Jessica Jones' Season 2
Will Jessica Jones ever find peace and happiness? By the looks of the Netflix Marvel series' new trailer for Season 2, which was just released, she's still having a rough go of it.
The hard-drinking, bad-attitude private investigator searches this season for more answers to her mysterious past, the death of her family, and how many others like her are out there. "I have 17 years of questions, and they are deep," Jones (Krysten Ritter) says in the trailer.
She's angry—even punches a wall—and is not taking sh*t from anyone. The trailer also leaves off on a cliffhanger when it shows a mysterious person clapping. Could this be a friend or foe?
Watch the trailer below:
Jessica Jones, Season 2 Premiere, Thursday, March 8 (International Women's Day), Netflix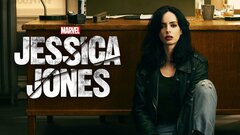 Powered by