'Behind the Movement': Meet the Cast of the Rosa Parks Biopic (VIDEO)
Just in time for Black History Month, TV One is rolling out a new original movie focusing on civil rights activist Rosa Parks.
Behind the Movement depicts the events leading up to Parks' courageous refusal to sit in the back of a Montgomery bus. It will also detail the chaos that came in the days following.
Starring Meta Golding (Colony) as Parks, the film premieres on February 11. Joining Golding are Loretta Devine (The Carmichael Show) as civil rights activist Jo Ann Robinson, Isaiah Washington (Grey's Anatomy) as E.D. Nixon, Roger Guenveur Smith(Queen Sugar) as Rosa's husband Raymond Parks, and Shaun Clay (Stitchers) as the one and only Martin Luther King Jr.
In the exclusive clip below, the actors open up about their motivations in embodying these historical figures in the film.
Behind the Movement covers some real-life events you may already know about, but it will also reveal new, important information from the Civil Rights Movement. Don't miss out when it hits a television screen near you.
Behind the Movement, Premiere, Sunday, Feb. 11, 7/6c, TV One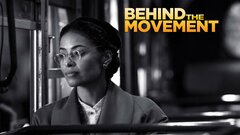 Powered by