'This Is Us': What Sparked Jack's Death Is Finally Revealed (RECAP)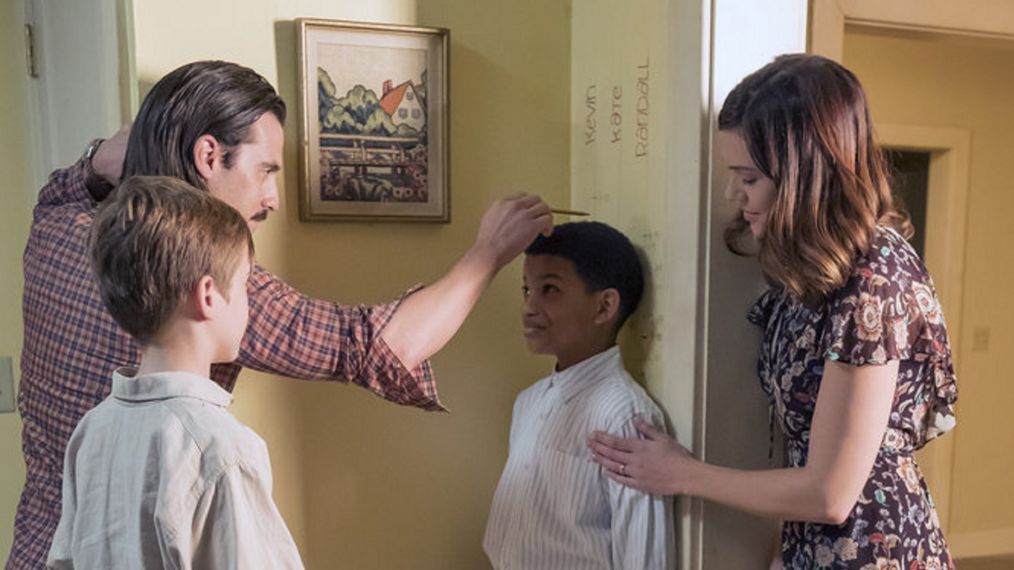 [Spoiler Alert: This recap contains spoilers from "That'll Be the Day," Episode 13 of This Is Us Season 2.]
They didn't win the SAG Award for Outstanding Performance by an Ensemble in a Drama Series at for nothing! The actors behind This Is Us have nailed it yet again this week with another great plot.
Last week, viewers were left another piece of the puzzle that has been Jack (Milo Ventimiglia)'s death. But this week's episode, "That'll Be the Day," told us even more: we finally know how he died—yes, really!
The first scene of "That'll Be the Day" may seem insignificant, but it is in fact probably the most essential scene in the whole episode. We meet an older, unknown woman encouraging her husband to let go of their junk as they prepare to move. Since Jack's desire to work on homes comes to mind, the scene presents itself as an opportunity of sorts—or, at least, that's what the This Is Us writers want you to think. But the scene will be important towards the end of this milestone episode…
But first, it is Super Bowl Sunday in the Pearson household, and Jack can't seem to get his kids together to celebrate the special day. Rebecca (Mandy Moore) approaches the sports event with enthusiasm, probing Jack about his plans to pursue his business. He makes it clear he wants to start slow and gradually grow it, but his focus for the day turns solely to football.
When the couple discusses their plans for the day, Jack mentions this is the "last Super Bowl with the kids." The words hang there, the finality in the statement carrying a double meaning that they have yet to understand. As Jack asks Kevin for help, he is blown off by his son and this is where we're thrown into the present.
Kevin (Justin Hartley) is blowing up Randall's (Sterling K. Brown) phone, trying to spend some quality time with his brother. Beth (Susan Kelechi Watson), on the other hand, is focused on bringing the building she and Randall just purchased up to code.
Randall gets a little ambitious and agrees to fix all of the small issues each tenant has in their individual apartments—and this is where Kevin comes in. In a page straight out of the Property Brothers, the duo gets to work, taking down walls, fixing doors, and patching holes. This is the exact opposite of how Kevin behaved with his father on that Super Bowl Sunday, and his willingness to help seems to demonstrate some regret about not being more helpful in the past. Kevin attracts a crowd of female admirers, while Randall discovers a serious pest problem just as he was about to brag about his progress to Beth.
Out in California, Kate (Chrissy Metz) catches Toby (Chris Sullivan) looking at puppies online. This takes Kate back to the memory of her dog, and Toby admits he knows "dogs are a sensitive issue" for her. This statement is just another piece to that growing puzzle—could this detail be relevant to Jack's death? Either way, Kate takes a trip to the dog pound, meets Master of None's Lena Waithe, a shelter employee, and falls in love with a mutt named Audio (who loves music, obvs).
Before we could learn too much about her dog issues, we're back in the past and Jack and Rebecca's two other kids are anything but enthusiastic. Kate finds out she's in the final rounds at Juilliard and needs to submit a new voice recording. Jack tries to videotape her practice session secretly, which only makes her more stressed. She commands him to stop calling her beautiful, explaining it only makes her feel worse.
Meanwhile, Randall also opts out of watching the game with the family, opting to take girlfriend Allison—the formerly unnamed redhead from the dance—to see Titanic for the seventh time.
Then, there is Kevin. The former star athlete is now constantly sulking and gets even worse when the subject of community college comes up. He explains to his parents he wanted to be in the Super Bowl, not watch it "like them."
Just as Jack's about to lose hope on the day, Kate watches the tape that her dad sneakily captured of her singing, finally seeing herself the way her father sees her. She tells him to never stop trying to make her feel that way, to which he happily agrees. Fast forward to the present and Kate is about to take Audio home from the shelter. Suddenly, she changes her mind, explaining to the dog she can't adopt him because it's too difficult.
Randall asks Kevin if he's okay, and he reveals that the work helps him stay sober, which sounds a lot like something Jack once said. Kevin details that he's making amends with people on his list, though he's afraid he won't be able to make things right with everyone.
Randall then opens up about his recent career change, admitting that he can't picture himself old no matter how hard he tries. Kevin comforts his brother, telling him that he'll live to be an old man, just like his "other dad."
Kevin still isn't done until he exchanges words with Sophie. His former wife says it will be easier to remember him from the past, and that she felt responsible for not picking up on his drug and drinking problems. Their status is left up in the air.
We now see Kevin with an envelope and inside is his father's necklace he'd previously lost. As he grasps the chain and pendant, tearing up, he crosses Sophie from his list of names only to flip the paper over to reveal the name "Dad" on the back.
We're in the past again, and Rebecca surprises Jack with a house-flipping prospect. The gesture spurs Jack to ask Rebecca to be his business partner. The moment is sweet and hopeful, and the married couple run upstairs to celebrate their decision in an, ahem, adult manner.
Next, adult Randall gets a taste of his own medicine from Beth. She reminds him of her experience with underprivileged areas, noting that she could've helped him avoid the cockroach disaster if he'd just listened. He agrees to ease up, declaring "my roll has been slowed."
We then see teenage Kevin calling home from Sophie's house. Rebecca answers, and when he asks if his father is angry, Rebecca says no but he is sad about how they left things. She offers him the chance to talk with his father but Kevin declines and says they can talk the next day.
Grown-up Kate returns home to Toby with—suprise!—new pup Audio. Of course, Toby is thrilled, though we're still unclear about Kate's unresolved dog issues. It make us wonder if maybe her childhood pet played a part in Jack's death, and that theory only seems stronger as the episode comes to a conclusion.
Back in the old Pearson house, Jack awakes to Randall returning home, and they have a sweet exchange about his date. Jack then leaves a note on the front door for Kevin, saying he wants to talk. As Jack cleans up the kitchen, he switches the crockpot on the counter off, placing a dish towel next to it.
Is this it? For just a moment, we question if this is the end of Jack. Then we're back with the old couple from the beginning, and the old man is knocking on his neighbors' door. It turns out, those neighbors are a young Jack and Rebecca, and he's giving away an old, temperamental crock pot—the very same one from the Super Bowl years later.
We return to the Pearsons' kitchen in 1998, and the power light flicks back on before sparking. Suddenly, the house is ablaze. Memories intermingle with the destruction, and now we know. Jack's life ended over a faulty kitchen product.
To see the full conclusion, we'll have to wait for the post-Super Bowl episode—with tissues nearby, of course. There will definitely be tears, it is almost guaranteed.
This Is Us, Tuesdays, 9/8c, NBC
Powered by