'Faith Under Fire' Star Toni Braxton on Playing Real-Life Hero Antoinette Tuff
In 2013, bookkeeper Antoinette Tuff saved countless lives by convincing a gunman at a Georgia elementary school to surrender. If you think it sounds like the perfect premise for a Lifetime movie, you'd be right.
Faith Under Fire, starring Grammy-winning singer Toni Braxton (with Trevor Morgan), tells the story of that harrowing day. Braxton—who watched news coverage of the real-life ordeal as it happened—opened up about stepping into the challenging role.
See Also
The made-for-TV flick will air in Spring 2018.
Did you spend time with Antoinette in order to play her?
Once I said yes to the movie, I couldn't wait to meet her. I called for months, but I had the wrong number! I finally met her the day before shooting; I was like a sponge trying to absorb everything about her mannerisms.
Did she stick around during the production?
For a couple of days. My thought was, "I don't want to mess this up. How am I going to play this courageous woman in front of her?" She gave me some insight into how she was feeling that day—she actually reenacted for me a good seven minutes of what happened.
Trevor Morgan, who plays the gunman, has been acting since he was a kid. Did he offer any pointers?
He taught me a lot. I'm a singer by nature; that's organic to me, and acting is something I have to work at. So he gave me some great tips. I just had to get lost in the character. I had to get lost in Antoinette and her personality.
The subject matter is life and death. Was it tough to shake off at the end of each workday?
It was hard to let that heaviness go. When I sing at a concert, I can be like, "Thanks for coming. Good night." But I had to carry this with me for a month during production. I don't know how Antoinette did it in real life.
Faith Under Fire: The Antoinette Tuff Story, Movie Premiere, Saturday, Jan. 27, 8/7c, Lifetime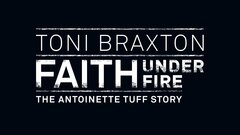 Powered by