'Mosaic': What You Need to Know About Steven Soderbergh's Interactive New HBO Series
And now for something completely different: Part murder mystery, part interactive experience, Mosaic was designed as a smartphone app and then developed into a show for HBO by director Steven Soderbergh. "He went back to the footage he shot for the app and built a miniseries," explains writer Ed Solomon.
Here's a breakdown of what you need to know about the ambitious six-part project.
What is it really about?
Renowned children's author Olivia Lake (Sharon Stone), who has enemies aplenty, disappears from her Utah home. Foul play is suspected, but whodunit? There are plenty of suspects, including con man Eric (In Plain Sight's Frederick Weller), Olivia's lover, and aspiring artist Joel (Mudbound's Garrett Hedlund).
How does the app factor into it?
Those who want to explore the Mosaic world beyond what HBO airs can click the app and choose to watch storylines unfold from different characters' perspectives. The digital component also offers exclusive extras (such as news stories about the case and voicemails) that add more context and clues to the overall story. But rest easy, tech-phobes: Viewers can watch Mosaic on HBO from start to finish as they would any other series. "The two versions are stand-alones. They're the same story, but told in a very different way," Solomon says.
Should fans be actively trying to solve the case in order to enjoy the show?
"Because there is a mystery involved, there may be a tendency for the viewer to think, 'Oh, this is about me becoming the detective,'" Solomon explains. "I want the viewer to have the choice and not feel like they're missing out by what they choose. The Mosaic storytelling experience is not dependent on you doing any work." In other words, you're free to put on your thinking cap…or sit back and enjoy the show.
Mosaic, Series Premiere, Monday, Jan. 22, 8/7c, HBO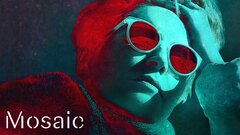 Mosaic
where to stream
Powered by