'Grey's Anatomy' Cast and Producers Pick Their Favorite Episodes
It must be tough to choose your top Grey's Anatomy pick from a show with over 300 episodes, but we asked the actors and producers to do just that.
Ellen Pompeo: (A Hard Day's Night, March 27, 2005)
The pilot introduced a young group of surgical interns to life—and death—at Seattle Grace Hospital. "It was just such magic," Pompeo says. "So many people have tried to re-create it and failed miserably, because you can't re-create magic like that. That's my absolute favorite episode."
Executive producer Krista Vernoff: (Six Days, Parts 1 and 2, January 11 and 18, 2007)
George's (T.R. Knight) dad dies after undergoing a risky surgery. "These episodes are the most personal to me," Vernoff shares. "Through George's dad, I told the story of the death of my own father. Shonda let me dedicate the episode to his memory."
See Also
The actress on Meredith, McDreamy, and trying her hand at directing.
Chandra Wilson: (Death and All His Friends, May 20, 2010)
The second episode of a two-parter about a shooting spree at the hospital is widely considered one of the best arcs Grey's has done. "My favorite scene in the series," Wilson says, "is when Bailey had to [control her fear] when resident Charlie [Robert Baker] was shot and hold him so he could die peacefully."
Debbie Allen: (The Sound of Silence, February 11, 2016)
Denzel Washington directed this episode (below), about a patient who assaults Meredith and the aftermath of her recovery. "Getting Denzel was a big coup," Allen says. "Shonda and I kept that secret for months! Every aspect of the episode was one of the best: the direction, the writing and Ellen's performance."
Kevin McKidd: (Out of Nowhere, November 16, 2017)
McKidd chooses the latest midseason finale, in which the hospital's computers are hacked. "It had a different tone," says the actor, who directed the episode, "more like an intense, high-stakes thriller." Indeed. FBI agents take over when internet blackmailers demand the hospital pay ransom to regain control of the medical equipment.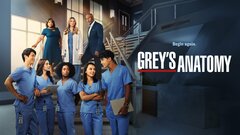 Powered by