'Modern Family' 200th Episode: Is the End of the Series in Sight? (VIDEO)
Long-running ABC hit Modern Family hits a major milestone this week when it airs its 200th episode—but it won't exactly be smooth sailing for our favorite extended brood.
One of the members of the family isn't feeling very well and needs to go to the hospital. So how will it go when Phil (Ty Burrell) asks Gloria (Sofia Vergara) to help him with his stomach ache? And how will special guest star Fred Savage come into play?
See Also
NBC's bitingly funny drama finds women balancing home, friendship and lives of crime.
For this special occasion, series creator/executive producer Steve Levitan and the show's writers opted not to make a markedly different episode. "We just tried to have a very entertaining, big family episode," he told TV Insider during the ABC day of the Television Critics Association winter press tour. "I always think of the 200th episode as more of a milestone for people who work on the show. The audience doesn't really care that much about whether it's the 200th episode. So to suddenly try to make it something really special or unique that jumps out feels a little weird to us."
But after 200 episodes, how much more life is there in the Emmy-winning comedy? "We're actually getting into some of these bigger conversations right now about what are some big news we could make to reinvigorate the show," Levitan said. "It could be that [Season 10] is the right number to bow out on, which would be next year. Or if we somehow get a second wind or get on a really good, creative direction, then maybe it will extend that. If the powers at be want it to extend. But it has to be right, because more than anything, I want to finish strong."
As you can see in the exclusive clip from this week's episode, the laughs aren't drying up anytime soon on the show. Check out the clip here:
Modern Family, Wednesday, 9/8c, ABC.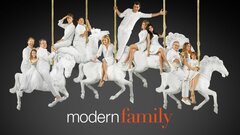 Powered by